Someone from the Woodridge area of Bellevue received a flier which included the following: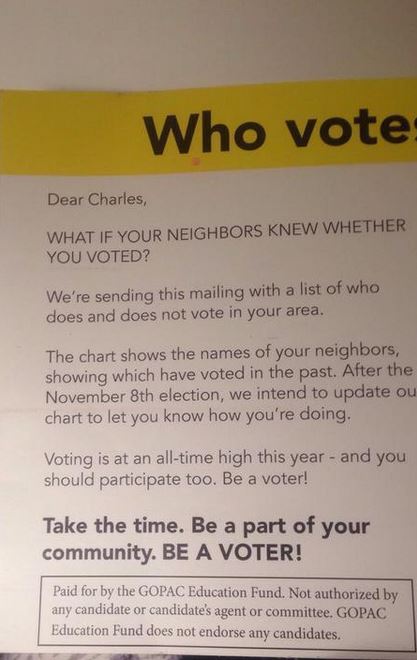 It says
WHAT IF YOUR NEIGHBORS KNEW WHETHER YOU VOTED?

We're sending this mailing with a list of who does and does not vote in your area.

The chart shows the names of your neighbors, showing which have voted in the past. After the November 8th election, we intend to update our chart to let you know how you're doing…..

Paid for by the GOPAC Education Fund.
GOPAC's website is at http://www.gopac.org/, with the tagline "Educating and Electing a New Generation of Republican Leaders."
I read about sociology experiments which suggest that when things like voting behavior are made public and shared with neighbors, people tend to to act to protect their reputation.
I bet the GOPAC people are targeting Republican-leaning areas, or voters, with these mailings. Indeed, I looked at the 2012 election results from the Secretary of State's office and I can see that for precinct 41-0111 (which is part of Woodridge), Republican Steve Litzow beat Democrat Maureen Judge 255 to 188.  But in Woodridge precinct 41-124, Maureen Judge won 211 votes to 208.
Whom you voted for is private information. But it's public knowledge when you last voted. Anyone can download the database from the state Secretary of State's office. For example, I'm a programmer and database developer, and I downloaded the database and wrote the following articles, using data from the database:
Republican Litzow is running against Trump, because 61% of 41st LD voters voted for Obama in 2012
Why women — especially older women — rule in Washington State
In fact, it's outrageous but the database has all voters' names, addresses, date of last vote, and birth dates. Â Â Â  I fear it's being used for purposes of identity theft. When you download the database you have to promise to use it only for political purposes and not for commercial purposes. But that won't deter criminals.
On the nextdoor.com social networks, lots of people are upset about the GOPAC mailer. One person said that she knows people who can't register to vote because there's a stalker who could use the public address to harass them.
GOPAC also did voter shaming in Vancouver, WA according to GOP 'Voter-shaming' flier left in Vancouver woman's mailbox.
Similarly in Arizona:Â  Allhands: Republicans want to shame you into voting.