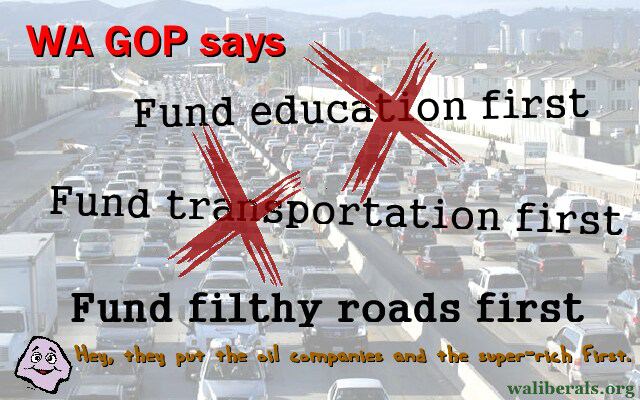 For background, see Democrats Challenge Republican Two Thirds Rule, Shut Down Senate Transportation Vote
The Democratic amendment, which lost on a party line vote, would have also blocked a controversial GOP amendment that takes all sales tax revenue from transportation projects out of the general fund (about $1 billion) and puts it into the transportation package. The Democrats argue that GOP provision will decimate education funding and social service funding.

…

Seattle state senator Pramila Jayapal (D-37, SE Seattle) proposed a similar amendment, which also lost along party lines. Her compromise amendment would have also gone along with the GOP change, but only after the legislature came up with a plan to fund K-12 first. Her amendment mocked the GOP "Fund Education First" mantra; the GOP has repeatedly proposed not funding any of the budget until they fund education. "It looks like funding education first is just a slogan and not something they're actually willing to do," Jayapal said. In addition to the sales tax change and raiding the toxics account, the transportation package includes a few other things the Democrats don't like: Only about six percent of the money goes to multimodal projects; Sound Transit got 25 percent less taxing authority than they requested; and the legislation has a provision the Democrats have taken to calling "the poison pill." That provision says that all the money for pedestrian, bike, and transit (that's that six percent for multimodal) turns into roads-only money if governor Jay Inslee uses his executive authority to green light low carbon fuel standards.
Comments
comments