Backbone Ally, Washington Fair Trade Coalition invites you to Stand Up For Democracy
Join WFTC for

Tuesday's

Light Brigade Actions in Seattle and more.
~~~~~~~~~~~~~~~~~~~~~~~~~~~~~~~~~~~~~~~~~~
Stop the Sneak Attack on Democracy,

Nov. 8-14

!

Washington Fair
Trade Coalition

Why Is this Week Important?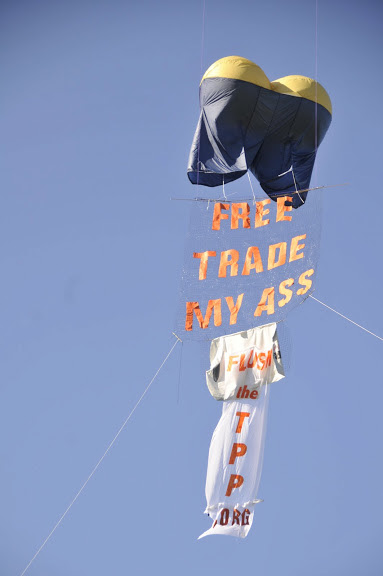 The elections are over, but the International Week of Action (

Nov. 8-14

) is just beginning.
We need your help to make sure Fast Track doesn't get pushed through during the Lame Duck Legislative Session.
Join groups across the nation calling for a new, accountable, and democratic process for negotiating trade agreements. Let's send a message that Washingtonians want trade policy that holds up people and the planet, not just the corporate bottom line.
Make your voice heard
1) Sign our PETITION,
2) then CALL or EMAIL your US Representative
Spread the Word
1) Help start the Week of Action with a bang! Click here to join the Thunderclap.

2) Sign up for our social media team, and receive daily sample posts

3) Write your local paper. Contact us to receive a toolkit.
Join us at Rallies and Light Brigades!

Bellingham, November 8, 2 – 6 PM, Holly and Railroad, rally and light brigade! (public)
Olympia, November 10, 5:30 – 7 PM, East Plaza lawn by the Korean War Memorial (public)

Seattle, November 11, 5 – 6:30 PM, Federal Building at 915 Second Ave (public)
Tacoma, November 12, 7 – 9 PM, Pierce County Central Labor Council (RSVP only)

More event information here.
Support WFTC's ongoing work: Fair Trade Breakfast,

Nov. 19
Join us to celebrate the year's successes and support Washington Fair Trade Coalition's ongoing work!
Fair Trade Breakfast Fundraiser


7:30 AM – 9 AM




Wednesday, November 19


IAM District Lodge 751
9125 15th Pl S, Seattle WA

Meet and talk with Celeste Drake, Trade and Globalization Policy Specialist for the AFL-CIO, and Jill Mangaliman, from Got Green. Connect with activists working on the environment, human rights, labor rights, public health, access to medicines, food security, climate change, immigration, internet freedom – any issues that intersect with trade policy.
Buy Tickets Here or RSVP at: gillian@washingtonfairtrade.org / 206.227.3079
No Fast Track by Any Name!