Matt Preedy, deputy WSDOT viaduct replacement program administrator, and Chris Dixon, project manager with Seattle Tunnel Partners, announced today that engineers had discovered what's blocking Bertha, the giant tunnel-boring drill stuck beneath Pier 48 on the Seattle waterfront:  Rodney Tom and Pam Roach of the Senate Majority Coalition.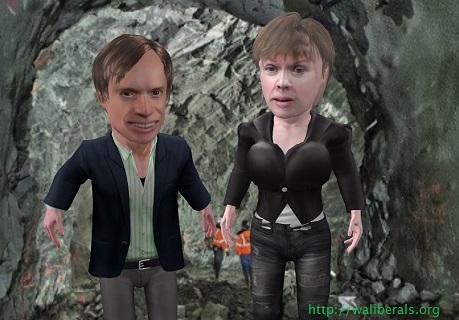 Engineers discovered that Tom (D-48th LD) and Roach (R-31st LD) had sabotaged Bertha by inserting rocks in its gear mechanism.
This is fitting news, since the Senate Majority Coalition has been blocking passage of the Democrats' transportation passage, including funding for Metro Transit. Tom and the Republicans are holding the transportation package hostage to their demands.  They want to overturn the prevailing wage (more union busting), weaken environmental requirements for road projects, and exempt transportation projects from the sales tax (thus further starving the general fund).  And they won't allow King County to institute a local funding option for Metro.
Nor will Tom and the Republicans close tax loopholes.
A certain Democrat State Senator told me that Pam Roach is perhaps the most powerful person in the legislature, because she regularly blocks bills for consideration. Like the Tea Party Republicans in the US House, Roach makes sure to veto any measure that might help the middle class and the poor.
By the way, the wikipedia article on Pam Roach has the following story about her infamous temper:
In 2010 fellow Senate Republicans banned her from the Senate Caucus after colleagues told her she had repeatedly mistreated staff and should get counseling to manage her anger. Republicans barred her from the caucus room, though she could still vote on the Senate Floor.[6]

Despite Roach's attempts at appeal, the disciplinary sanctions against Roach were maintained for almost two years, until they were abruptly lifted in February of 2012, when the Senate Republican leadership wrote a letter to Sen. Roach inviting her back into the Republican caucus.[7] Not long after Roach was invited into the Senate Republican caucus, Senate Republicans- joining with three Democrats- utilized an obscure procedural motion to wrest control of the budget writing process from the Democratic caucus and pass their own budget. [8] However, in Roach's absence, even with the votes of the three Democrats, the Republicans would still come up one vote short of being able to pass their budget on the floor of the Senate. In one interview, Roach said, "I was the 25th vote (for the GOP), and my caucus finally did the right thing." Her return to the caucus room prompted Mike Hoover, a GOP staffer who had been verbally abused by Roach in the past, to sue the Washington State Senate for $1.75 million for creating a hostile workplace by readmitting Roach back into the caucus room.[9]

In September of 2012, the Washington State Senate reaffirmed their sanctions against Senator Roach. [10]
Comments
comments