Occupy CEHKC, April 24-25
24-hours to change how Seattle sees homelessness
Real Change, SHARE/WHEEL, and Nickelsville are calling upon the broader community to join us this April 24-25 in a 24-hour wake-up call to get real about ending homelessness AND meeting the short term needs of those who suffer on the streets.
Since the Committee to End Homelessness in King County (CEHKC) formed in 2005 in response to a federal mandate, the numbers of people in shelter during the one night count have gone up by 7 percent and the numbers of people found out on the street have risen by twenty-five percent.
While austerity budgets at all levels of governments have targeted programs that serve the poor, double digit unemployment and a predatory lending industry have created many new homeless, even as record numbers of foreclosed homes stand empty.
Occupy CEHKC is the launch of a long-term campaign to change how we approach homelessness in King County.  Homeless people call upon CEHKC to revise how they operate in these three areas:
1.) Data collection and outcomes should be used as a tool, not a weapon.
We are concerned that data collection is being used to control service providers and enforce unrealistic priorities and outcomes, and that those who do not cooperate are threatened with funding loss.
2.) Provision of low-cost survival services must be prioritized.
Shelter capacity should be pegged to demand and turn-aways should be tracked as a means of gauging need. Partnerships between tent cities and host communities should be nurtured to build the political will to end homelessness.
3.) CEHKC must create and promote an economic justice agenda.
CEHKC leadership needs to use their considerable influence to affect the issues that create homelessness, and not just mitigate the misery that comes from accepting injustice. These include inequality, affordable housing loss, scarcity of livable wage employment, and the criminalization of the poor.
Get Involved.  Start Listening.  Take Action. 
JOIN OUR LISTENING CIRCLES
Saturday, April 21, 90 minute sessions at 10 am, noon, or 2 pm
Listening Circles at Real Change
Join the dialogue between homeless people and their allies for economic justice, and learn about our common interest in taking action.  Email organizer@realchangenews .org for more info and to RSVP
24-hours at Westlake, Occupy CEHKC
Tuesday, April 24, Noon, Westlake Park
Visibility and leafleting
Tuesday, April 24, 5:30 pm-7 pm, Westlake Park
Rally and Speakers
April 24-25, overnight, Westlake Park
Solidarity Encampment in Support of Homeless Survival
April 25, 7:30 am, Westlake Park
March to YWCA Opportunity Place, 3rd and Lenora to attend quarterly Governing Board Meeting of Committee to End Homelessness In King County
April 25, 10 am-noon, Westlake Park
Meeting to debrief and plan next steps, camp clean-up.
Please join us.  Email organizer@realchangenews.org for more information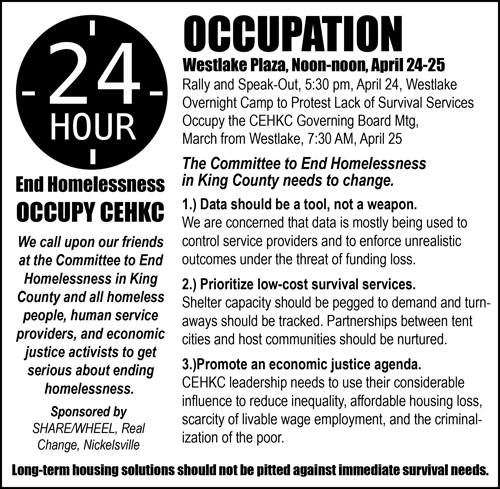 Comments
comments