Residents of the 41st LD are getting lots of fliers in their mail in support of fake Democrat Wendy Weiker.  Weiker is running for the state House against My-Linh Thai, who is the current president of the Bellevue School Board  and is the candidate endorsed by the 41st LD Dems and by most Democrats.
Citizens for Progress Enterprise Washington, 1603 116th Ave NE Suite 120, Bellevue 98004 sent out the ad below. It says the top 5 contributors are : Enterprise WA's jobs PAC, Phillips 66, WA Assoc of Realtors PAC, WA Hospitality Assoc PAC, Master Builders Assoc of King & Snohomish County Affordable Housing Council.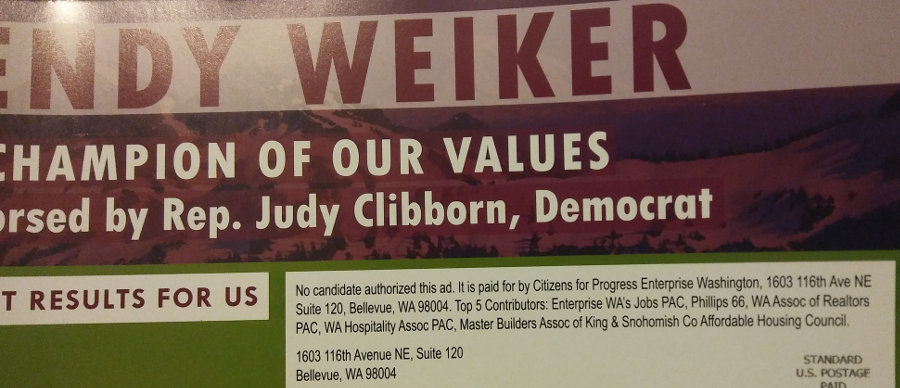 If you do a search on Washington State's Public Disclosure Commission for Enterprise WA's Jobs PAC you see that its top contributors are:
WASHINGTON ASSOCIATION OF REALTORS POLITICAL AFFAIRS COUNCIL
OLYMPIA
WA
Cash

150,000.00

BUILDING INDUSTRY ASSOCIATION OF WASHINGTON
OLYMPIA
WA
Cash

130,000.00

WASHINGTON ASSOCIATION OF REALTORS
OLYMPIA
WA
Cash

100,000.00

ASSOCIATED GENERAL CONTRACTORS OF WASHINGTON BUILD PAC
SEATTLE
WA
Cash

80,000.00

ALTRIA CLIENT SERVICES LLC
RICHMOND
VA
Cash

25,000.00

CITIZENS FOR WORKING COURTS ENTERPRISE WASHINGTON
BELLEVUE
WA
Cash

12,585.00

WASHINGTON FARM BUREAU PAC-STATE
LACEY
WA
Cash

10,000.00

WASHINGTON RETAIL ASSOCIATION
OLYMPIA
WA
Cash

10,000.00

KROGER
CINCINNATI
OH
Cash

7,500.00

WASHINGTON STATE DENTAL PAC
SEATTLE
WA
Cash

5,000.00

WASHINGTON FOOD INDUSTRY ASSOCIATION PAC
OLYMPIA
WA
Cash

2,500.00

CAREMARK RX, INC.
LINCOLN
RI
Weiker is also being supported by the pro-charter schools Stand For Children PAC, which is funded by Bill Gates and other rich people. (If you do a search of the Washington State Public Disclosure Commission's website, for Stand for Children, the source of the money is obfuscated. In 2017 $1,000,000 came from Stand for Children Portland, Inc.)Â  Stand for Children sent out at least one mailer for Weiker.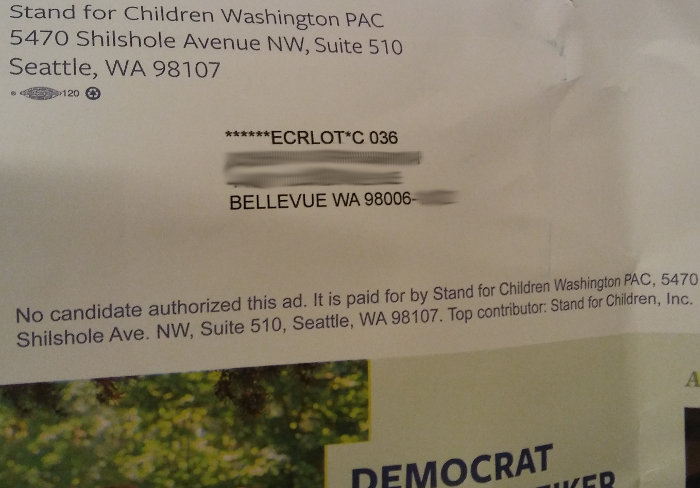 Another fake Dem is Rodney Tom, who flipped control of the State Senate to the Republicans in 2012. See this resolution.
In fact, Progress Enterprise WA, who is supporting Wendy Weiker, also supports Rodney Tom, and last year they supported the Republican Jinyoung Lee Englund who ran and lost against Manka Dhingra in the 45TH LD Senate race.  Prior to that they supported Republican Lisa Wellman. The Seattle Times reports in Running as a Democrat for the state Senate, Rodney Tom attracts help from Republican-leaning groups:
As of Monday, Republican-leaning groups have spent roughly $193,000 on ads in support of Tom.

Of that, $186,000 comes from a political-action committee called Citizens for Progress Enterprise Washington, with the balance coming from the Mainstream Republicans of Washington.

Citizens for Progress Enterprise Washington was one of the biggest players in last year's 45th District special Senate election, which became the most expensive legislative race in state history.

In that race, the group spent more than $1 million in favor of Republican Jinyoung Lee Englund, or against Manka Dhingra, the Democratic candidate who prevailed.