The news aggregation site news.google.com has a list of Fact Checks "From independent sources" near the bottom of the page. On Feb 5 2023 I saw: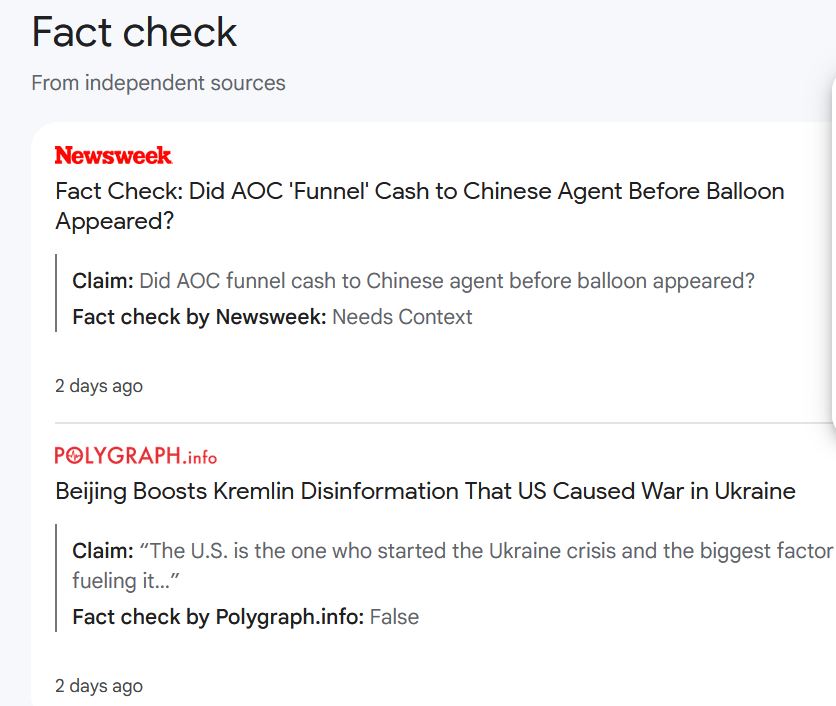 The second article, Beijing Boosts Kremlin Disinformation That US Caused War in Ukraine, is from polygraph.info, which, according to Wikipedia, "is a fact-checking website-aggregator[2] produced by U.S. government-funded news organisations Voice of America (VoA) and Radio Free Europe/Radio Liberty (RFE/RL).[3] The website also documents Russian disinformation and state-backed propaganda by the Chinese government[4]."
That hardly counts as an independent source!
There's a plethora of documentation (e.g., this and the links therein) about how the U.S. intentionally provoked the war in Ukraine.  While some of the facts about what happened are shrouded in secrecy and in a fog of disinformation and spin, calling polygraph.info an independent source is ridiculous.  Is there any way to lobby google to stop using that source?
Comments
comments