In The Crooks Behind the Charter School Scam, we looked at charter school corruption in Chicago, New York City, Philadelphia and New Orleans. In this section, we will look at fraud and corruption in seven States: California, Arizona, Texas, Florida, Pennsylvania, New York and Ohio. But what we may think of as corruption is really the intended payoff of charter schools… just a part of the plan to maximize profits by diverting funding away from public schools to private for profit schools
Four Steps in the Cycle of Ed Reform Corruption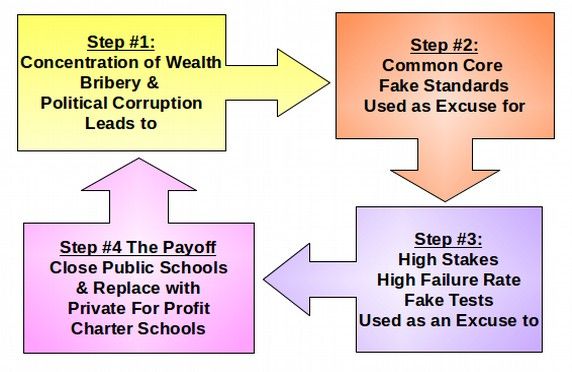 No publicly elected school board means no public accountability
One of the most important purposes of a publicly elected school board is to oversee the spending of tax payer funds to prevent fraud and corruption. This is why one of the most important goals of charter schools is to get rid of publicly elected school boards. Unlike public schools, private profit charter schools are not subject to a public audit of their books. This allows charter school operators to get away with all kinds of fraud and corruption. Charter schools have already robbed American tax payers of billions of dollars – in addition to robbing American children of their right to a good education. The charter school fraud problem is getting worse every year. In this section, we will provide just a few examples. But with charter schools, fraud is not the exception. It is the rule. If tax payers understood the degree of fraud, waste and abuse going on at charter schools, every charter school in the nation would be shut down within a year.
Understanding Charter School Corruption Requires atour of the US
In order to bring some sense of order to the charter school corruption scams, we have divided them up by States, starting in California and working our way east along the southern United States through Arizona, Texas and Florida and then up the East Coast to Pennsylvania and New York and ending in Ohio. Here is a picture index of how this section is organized: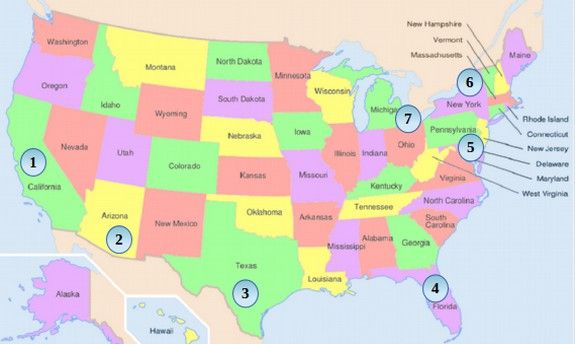 A National Charter School Corporate Crime Wave
In May 2014, the Center for Popular Democracy and Integrity in Education issued a report called Charter School Vulnerabilities to Waste, Fraud And Abuse. This report concluded that fraudulent charter operators in 15 states were responsible for losing, misusing or wasting over $100 million in taxpayer money per year. http://integrityineducation.org/charter-fraud/
Since there are actually charter schools in 45 States, it is likely that the total fraud and abuse of tax payers funds by charter schools exceeds $300 million per year. The report contains news stories, criminal records, and other documents to detail abuses such as charter school operators embezzling funds, using tax dollars to illegally support other, non-educational businesses, taking public dollars for services they didn't provide, inflating their enrollment numbers to boost revenues, and putting children in potential danger by foregoing safety regulations or withholding services. These are only a few specific examples of the thousands of cases of fraud involving charter schools nationwide.
Here is a quote from the report: "Our examination, which focused on 15 large charter markets, found fraud, waste, and abuse cases totaling over $100 million in losses to taxpayers. Despite rapid growth in the charter school industry, no agency, federal or state, has been given the resources to properly oversee it. Given this inadequate oversight, we worry that the fraud and mismanagement that has been uncovered thus far might be just the tip of the iceberg."



In December, 2014, another report was published called When Charter Schools are Nonprofit in Name Only. This report described the common practice of charter schools pretending to be "non-profits" only to sweep all of the money out of the fake non-profit front group and into the pockets of private for profit "management" corporations. These "sweep" contracts divert nearly all of the charter school's public dollars to for profit corporations – with very little left to actually run the charter schools. Once the public money goes into the black hole of a private corporation, there is no way to keep track of how it is actually spent.
http://www.propublica.org/article/when-charter-schools-are-nonprofit-in-name-only
Here is a quote from the report: "It can be hard for regulators and even schools themselves to follow the money when nearly all of it goes into the accounts of a private company… "We can't audit the (private) management company," said Brian Butry, a spokesman for New York Comptroller Thomas DiNapoli."
There are several reasons that privatization of public schools has led to rampant fraud and outright theft of tax payer dollars. The first is greed and the profit motive. Billionaires cannot help themselves. They are used to taking whatever money they can get their hands on. The second is deregulation combined with lack of accountability. With charter schools, there is no elected school board to watch over how public funds are spent. Even when the fraud is uncovered, there is no elected school board to kick out of office and replace with a better group. Parents have literally no voice once their school has been taken over by the fraudsters. The third problem is that charter schools like to measure how they are doing simply by high stakes tests scores. This inevitably leads to cheating scandals and many other attempts to manipulate the system – such as having low performing students call in "sick" and not take the test – and even handing students the answer sheet before the test or having administrators change students test answers in the dead of night.
In 2005 Ronald Corwin and Joseph Schneider published "The School Choice Hoax." In this book, they concluded that the number of charter schools that closed due to corruption and mismanagement outnumbered charter schools that closed for academic reasons by a margin of more than three to one.
http://www.abc-clio.com/ABC-CLIOCorporate/product.aspx?pc=D7793C
The only solution to corruption and fraud is to not allow private corporations to make profits off of public schools. The only way this will happen is to ban charter schools. Hopefully, the fraud stories from the following 7 states will help convince more Americans that charter school fraud factories need to be shut down.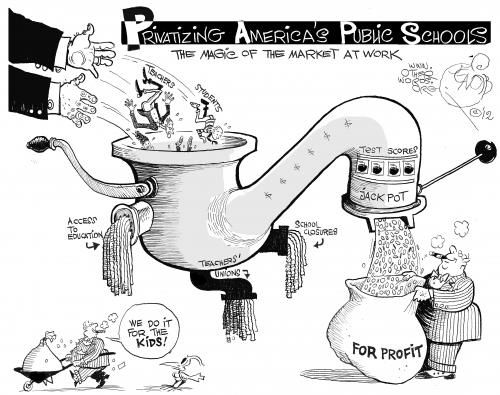 #1: California… The Golden State
As of the 2014 school year, California has about 1,000 charter schools affecting about 500,000 students. The entire nation has about 7,000 charter schools controlling the lives of 2.5 million students. So California represents about 20% of our nation's charter school corruption problem. Charter schools are virtually unregulated in California. Thus charter school corruption is rampant in California. It has been rampant since it started in 1999.
From 1999 until it went out of business in 2004, the California Charter Academy was the state's largest charter school operation, with more than 4,557 students in kindergarten through 12th grade. In 2004, the State of California Department of Education began looking into allegations of financial fraud at the charter chain.
This led to criminal charges against the executives of a charter school operation after an audit found they had misused at least $25.6 million in public education money, including $2.6 million for personal expenses. The audit found that executives of the now-closed California Charter Academy used public funds to pay for personal boats, travel, health spa visits, Disney-related merchandise and more. Two employees even paid their income taxes with $42,000 in school funds.
In 2010, the former principal of Northwest Academy Canoga Park charter school plead guilty to embezzlement. Edward Peter Fiszer, 40, pleaded guilty to one count of embezzlement by a public officer and admitted that the dollar-value exceeded $1.3 million. Fiszer was sentenced to five years in state prison.
Also in California in 2012, a probe into a charter school was prompted after a former employee blew the whistle on suspicious financial activity between the school and a real estate company owned by the school's founder and "chief executive," Ben Chavis. Chavis's company also owns the building leased to the school in the urban East Oakland Laurel District.The Fiscal Crisis and Management Assistance Team that conducted the investigation has brought into question up to $3 million of questionable transactions over the past three years between the charter school and Chavis's real estate company. The allegation is that Chavis has been embezzling with the aid of his wife, who works as an administrator as well as a consultant to the school. The team concluded that "several companies that conduct business with the charter schools are owned by the founder and/or his spouse, and payment for these services are signed by one or both of these individuals."
In 2011, a charter school finance director faced charges of embezzling nearly $400,000 to support a prescription narcotics habit, Santa Rosa police officials said. Sheila Accornero is suspected of writing checks to herself and hiding money through accounting techniques during the five years she managed the books for the Kid Street Learning Center Charter School on Davis Street, Sgt. Michael Lazzarini said. "It appears that all the money went to drugs," said Lazzarini, who runs the property crimes unit. "


In 2013, a jury convicted the founders of the Ivy Academia charter school in the San Fernando of embezzling public funds and filing filing false tax returns. Eugene Selivanov and his wife Tatyana Berkovich founded Ivy Academia in 2004 as a state funded charter school. An audit three years later found the couple had not kept public money separate from its for-profit companies. During a three-week trial, prosecutors alleged the couple filed false tax returns and used $200,000 in public funds to buy groceries, clothes and other personal items – and to fund a separate private school!
In 2014, according to an investigation by the California State Auditor, the Cato School of Reason Charter School registered and collected millions of taxpayer dollars for students who were actually attending private schools.
Also in 2014, in California, a charter school con man admitted to stealing more than $7 million worth of computers from the US government by creating fake online schools and then selling the computers on Craig's List. The total loss to the tax payers of this scam was more than $30 million since 2007.
Also in 2014, a charter school board member in Newport Beach California was accused of stealing $750,000. He took the money telling other school board members he was investing it. It turned out he was investing it in himself through a series of money laundering schemes. Tax payer funds disappeared into thin air.
http://www.latimes.com/local/lanow/la-me-ln-charter-school-board-member-charged-theft-20140212-story.html#ixzz2tg0PSWLm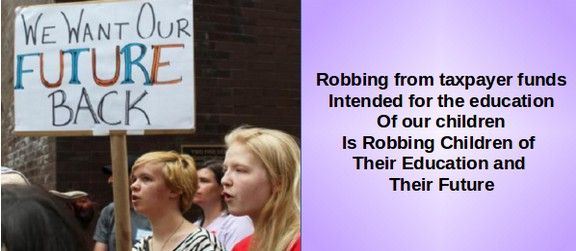 Arizona…
In 2002, Arizona had 422 charter schools – more than any other State in the nation at the time. More than 10 percent of these charter schools have since closed with other charter schools taking their place in a rotating shell game. Currently, Arizona has about 500 charter schools affecting about 200,000 children. In Arizona, in 2012, the Arizona Republic found that board members and administrators from 17 charter schools "profiting from their affiliations by doing business with schools they oversee." Investigators reviewed thousands of pages of federal tax returns, audits, corporate filings, and records filed with the Arizona State Board for Charter Schools. The analysis looked at the 50 largest non-profit charter schools in the state as well as schools with assets of more than $10 million. For-profit schools were not analyzed because their tax records are not public. The Republic's analysis found at least 17 contracts or arrangements, totaling more than $70 million over five years and involving about 40 school sites, in which money from the non-profit charter school went to for-profit or non-profit companies run by board members, executives or their relatives.
http://archive.azcentral.com/arizonarepublic/news/articles/20121016insiders-benefiting-charter-deals.html


Texas…
Like Arizona, Texas has about 500 charter schools affecting about 200,000 students. In April 2008, an investigation by the Dallas Morning News reported that out of 206 charter schools in Texas, 93 of them – or almost half – had been bilking the state out as much as $26 million dollars per year by over counting their enrollment. The Texas Education Agency (TEA) is working to recover $17 million of the $26 million from nearly half of the charters now operating in Texas. TEA records show that 20 schools went out of business before the state could recover its money, leaving taxpayers holding a $9 million bag of debt. Due to the lack of transparency at charter schools, no one knows for sure if the charter school debt is really $26 million dollars. The actual amount of fraud could be much more.
http://www.schoolsmatter.info/2008/04/charter-schools-mismanagement-fraud.html
Florida…
Like Texas and Arizona, Florida has about 500 charter schools affecting more than 200,000 children. Pushing charter schools on the children of Florida was one of the main goals of presidential candidate and former Florida governor, Jeb Bush – who also received millions of dollars from Bill Gates. In a 2007 editorial called "Charter Schools Run Wild," the St. Petersburg Times of Florida noted that in the state of Florida: "Those lobbyists, and an embarrassingly compliant state Department of Education, have turned charter education into a $560-million-a-year enterprise that is so immune to oversight that an Escambia school convicted of fraudulently using its students to work on road crews is still receiving tax money. A Pensacola school where not a single student has passed the state's standardized reading and math tests in four years is still receiving tax money. A Vero Beach school investigated twice for suspicion of cheating on standardized tests is still receiving tax money."
http://www.sptimes.com/2007/04/01/Opinion/Charter_schools_run_w.shtml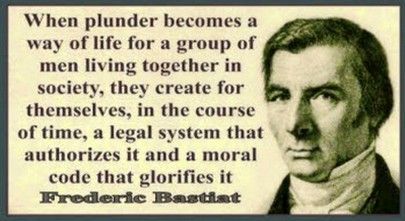 In 2011, the former director of Life Skills Center Charter School in Florida, John Wyche, was sentenced to serve more than six years in prison for misusing more than $750,000 in state education monies to sustain a failing apartment complex that he owned
In 2012, the former home of a shuttered charter school was auctioned off after Great Florida Bank won a $2.24 million foreclosure judgment. The Miami-Dade County School Board shut down the Balere Language Academy after parents complained of house parties with alcohol and other distasteful promotions.
http://www.bizjournals.com/southflorida/blog/morning-edition/2012/12/charter-school-building-heads-to.html
In April 2014, the League of Women Voters of Florida issued a report on fraud of charter schools. The report was shocking. They found that while public schools spent more than 80% of their funds on classroom instruction, charter schools spent barely 40% on classroom instruction. Charter schools spent much less on teachers and much more on overhead costs, management and rental fees. Charter schools had a closure rate of 20% per year. Numerous members of the State legislature benefited directly or indirectly from charter school kickbacks.
http://origin.library.constantcontact.com/download/get/file/1103316066537-1070/LWV+Final+Report+Statewide+Study+1-3.pdf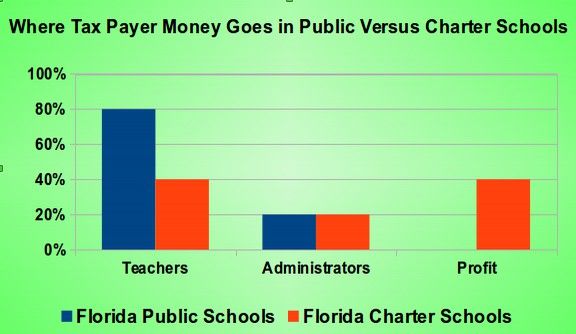 Thus, how charter schools make a profit is by cutting teachers in half. No wonder charter school operators want to get rid of teachers unions!
In June 2014, an investigation by the Orlando Sun Sentinel found, "Unchecked charter-school operators are exploiting South Florida's public school system, collecting taxpayer dollars for schools that quickly shut down." How this scam works is that 56 South Florida charter schools were started and got a lot of public money. Then they closed leaving the local public school district to pick up the pieces. The scam artists included Charter Schools USA – an outfit we will talk more about when we get to Pennsylvania. The scams cost local public school districts more than one million dollars in lost funding.
Here are a couple of quotes from the article:
"It's almost mind-blowing what's going on," said Rosalind Osgood, a Broward School Board member. "They just get away with it."
"They're public schools in the front door; they're for-profit closed entities in the back door," said Kathleen Oropeza, who co-founded FundEducationNow.org, an education advocacy group based in Orlando. "There's no transparency; the public has no ability to see where the profits are, how the money is spent."
In August 2014, another Florida investigation of charter school operations found millions of taxpayer dollars misdirected from classrooms and students to management companies like charter school chain operator Charter Schools USA. Charter Schools USA uses tax-exempt bonds to build schools that it then rents to its affiliates- basically overcharging them by tens of millions of dollars in extra school rental charges that get passed on to the tax payers.
What Charter School USA does very well is provide campaign funding for State legislators. State records indicate Charter Schools USA spends nearly $2 million per year in bribes/lobbying to the State legislature and the State Governor.
http://www.wtsp.com/story/news/investigations/2014/08/21/charter-school-profits-on-real-estate/14420317/
Pennsylvania…
Pennsylvania has about 170 charter schools affecting more than 100,000 children. In 2010, five Philadelphia charter officials plead guilty to or were convicted of federal fraud charges, and 18 charter schools in the city were under federal investigation based on allegations including financial mismanagement, nepotism, conflicts of interest, unusual salary arrangements for chief executives, and complex real estate deals in which charters leased facilities from related organizations. This was part of a national investigation. Here is a quote from the report: "In the last five years, the Inspector General's Office has opened more than 40 criminal investigations of charter schools nationwide that have resulted in 18 indictments and 15 convictions. The offenses have included embezzling, inflating enrollment to obtain more funding, changing grades, and creating companies to divert money from schools."
http://www.philly.com/philly/education/20100503_U_S__probe_widens_to_18_city_charters.html
In July 2012, the FBI charged charter school promoter Dorothy June Brown with stealing more than $6.5 million in school funds. Dorothy had a habit of stealing from charter schools she had started in Philadelphia. Between 2007 to 2011, Brown robbed $6.5 million from three charter schools she founded. In 2013, the charter school promoter plead guilty to most of the counts.
http://www.fbi.gov/philadelphia/press-releases/2012/charter-school-founder-dorothy-june-brown-charged-in-6-million-fraud-scheme
In June 2014, a study was released showing that Pennsylvania charter schools got $200 million more in tax dollars for special needs students than they actually spent on special needs students.
http://thenotebook.org/sites/default/files/PASBO%20special%20education.pdf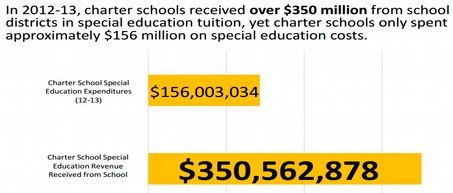 As best we can tell, instead of special ed money serving special needs students, it appears that the windfall has funded things like multi-million dollar CEO compensation, over 19,000 local TV commercials urging kids and their parents to sign up for a charter school that has one of the worst academic records in the nation, a jet and Florida condo, generous political campaign contributions and a 20,000 square foot mansion on the beach in Palm Beach Florida. Here's a three minute youtube video produced by KEYSEC Co-Chair Mark B. Miller that clearly explains how this happens.
https://www.youtube.com/watch?v=WRw5oO02KpA
In September 2014, the Center for Popular Democracy, Integrity in Education, and ACTION United published a report that disclosed charter school officials in Pennsylvania had defrauded at least $30 million intended for school children since 1997.
http://populardemocracy.org/sites/default/files/charter-schools-PA-Fraud.pdf
Examples of charter school fraud described in the report included:
In 2007, one charter operator was caught diverting $2.6 million in school funds to a church property he also operated.
In 2008, another charter school operator was caught spending millions in school funds to bail out other nonprofits associated with the school's parent corporation.
In 2009, a pair of charter school operators stole more than $900,000 from the school by using fraudulent invoices for home improvement expenses.
In 2012, another charter school operator was sentenced to prison for stealing $522,000 to prop up a failing restaurant.
In 2014, another charter school operator was indicted for diverting $8 million of school funds to buy houses and an airplane.
In November 2014, Pennsylvania voters decided they had finally had enough of their corrupt pro-charter school governor Tom Corbett and voted to replace him with Tom Wolf, a governor who pledged to support and protect real public schools.
On December 6 2014, the Philadelphia Coalition Advocating for Public Schools issued a press release calling for the Pennsylvania Attorney General to investigate charter school fraud.
http://wearepcaps.org/2014/12/06/pcaps-calls-on-pennsylvania-attorney-general-kathleen-kane-to-investigate-charter-school-fraud-prevention-practices-requests-by-community-and-parents-for-information-go-unanswered/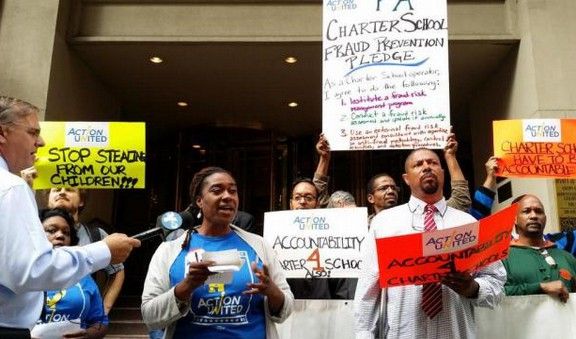 Here is a quote from their press release: "After uncovering $30 Million in fraud by Pennsylvania Charter schools, members of the community and parents have seen their "Right to Know" requests for information about Philadelphia Charter Schools fraud prevention policies go unanswered. A formal complaint will be filed requesting that the PA Attorney General open an investigation into these private, non-profits and how they care for taxpayer dollars."
The charter school scam in Pennsylvania is being run by a wealthy attorney named Vahan Gureghain. He is the founder of a corporation called CSMI which stands for charter school Management Incorporated.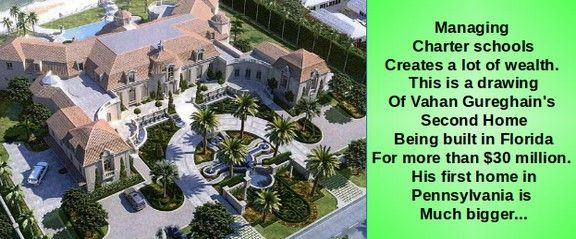 Gureghain runs Pennsylvania's largest charter school – with more than 3,000 students. He has donated more than one million dollars to political campaigns of pro-charter school candidates including near a half million dollars to former Governor Tom Corbett. Apparently, this was not enough money to get Tom Corbett re-elected.
Merry Christmas Pennsylvania… We are Stealing your Schools!
York (Pennsylvania) School District Takeover by Charter Schools USA
In December 2014, a judge removed the public schools of York City, Pennsylvania, from their publicly elected school board and handed them over to a receiver, business man David Meckley. He has said he will turn the all eightschools over to a for-profit charter chain, Charter Schools, USA. The school district got into financial trouble after former governor slashed $1 billion in State funding for public schools. This meant an $8.4 million cut for the York School District. The Governor then appointed David Meckley to fix the financial problem that the governor had created. When the elected school board refused to go along with the conversion of the school district to charter schools, Meckley got a judge to sign a court order forcing the conversion. This is what the local newspaper said:
"The community clearly opposes the plan. Yet while they have no say in the matter, city property owners' tax dollars now will be used not only for education but to boost the profits of Charter Schools USA. Since the district is struggling financially, how can anyone justify diverting even a penny away from the students?"
https://gadflyonthewallblog.wordpress.com/2014/12/27/merry-christmas-were-stealing-your-schools/
Below is an image of parents protesting the takeover of their York School District.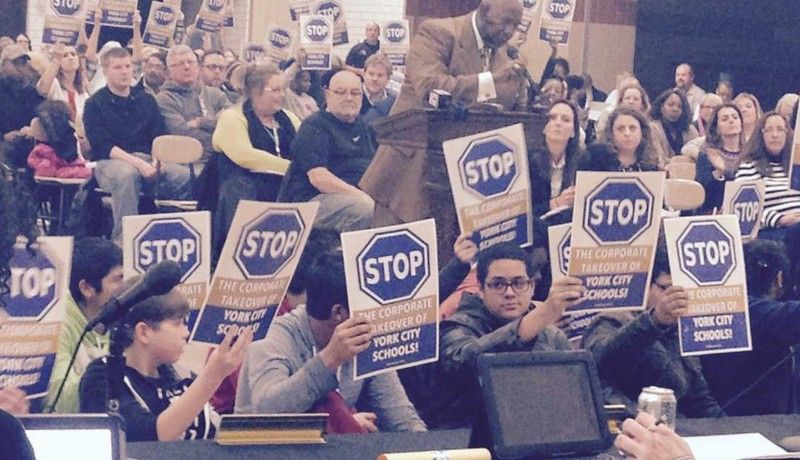 As we noted in the section on Florida charters, Charter Schools USA is an extremely corrupt corporation. They spend as much on fees and leases profiting upper management as they do on teachers. Another Charter Schools USA school in Indiana kept more than $6 million of "misappropriated" state funds for 1,800 students who never enrolled in its schools. The CEO of Charter Schools USA Jonathan Hage has become very rich from diverting funds away from students and towards things like his personal yacht which he named"'Fishin' 4 Schools."
New York…
New York has about 250 charter schools affecting more than 90,000 children. On December 1 2014, the Alliance for Quality Education released an analysis of charter school financial fraud, finding that more than $54 million in tax payer funds had been diverted away from schools by charter school operators in New York state in just the past year.
http://www.aqeny.org/2014/12/release-new-report-reveals-new-york-states-charter-schools-pose-54-million-fraud-risk-to-taxpayers/
Here is a shocking quote from this report: "State agencies have audited just a quarter of New York's more than 250 charter schools since 2005, largely relying on them to police themselves. Yet in a startling 95 percent of the charters examined, auditors found mismanagement and internal control deficiencies that have occasioned $28.2 million in known fraud, waste, or mismanagement."
Put in plain English, in 9 years the State of New York was only able to investigate 62 charter schools. Of these 62 charter schools, 59 were found to have committed fraud or mismanagement! Yet New York taxpayers spend over $1.5 billion on these corrupt charter schools each year.
Examples from the report included:
#1: A New York City charter school operator issued credit cards to its executives allowing them to charge more than $75,000 in unexplained charges in less than two years.
#2: A Long Island charter school operator paid vendors over half a million dollars without competitive bids.
#3: An Albany charter school operator lost as much as $2.3 million by purchasing a site for its elementary school rather than leasing it.
#4: A Rochester charter school operator awarded contracts to board members, relatives, and other related parties rather than get competitive bids.
#5: A Buffalo charter school operator signed a leasing arrangement that paid more than $5 million to a building company at a 20 percent interest rate.
It is likely that the actual fraud is three times worse than the known fraud.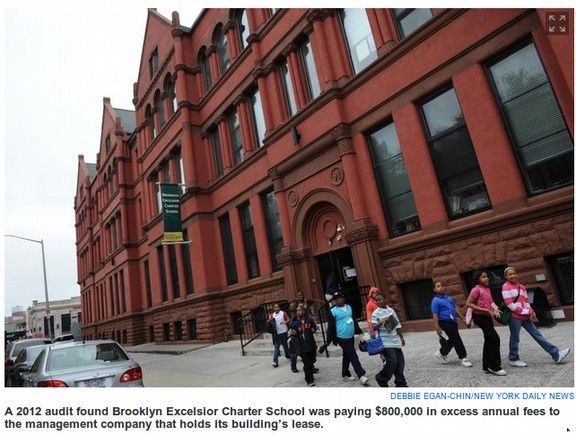 Ohio
Ohio has about 400 charter schools affecting more than 120,000 children. Ohio seems to be the nation's leader in charter school corruption which is why we have saved them for last. In 2013, an Ohio man and his brother plead guilty to an alleged $1.8 million charter school fraud in Cleveland. Both were sentenced to one year probation. Also in 2013, in a similar case, prosecutors charged a charter school operator of diverting at least $1.2 million dollars in public funds away from his charter school and into other businesses and multiple homes. In 2014, the judge gave the operator 5 years of probation.
http://www.cleveland.com/court-justice/index.ssf/2014/02/lion_of_judah_charter_school_o.html
In another case, a charter school treasurer plead guilty to stealing $470,000 from 4 Ohio charter schools. The funds were supposed to be used for the education of students at four charter schools in Columbus, Youngstown and Dayton between 2005 and 2011, according to the office of the U.S. Attorney for the Southern District of Ohio.
In 2013, 19 charter schools closed in the State of Ohio, joining 150 other charter schools in Ohio that had already been shut down since 2005. With about 400 total charter schools in Ohio, that is a failure rate of over 40 percent!
"$1.4 billion has been spent since 2005 through school year 2012-2013 on charter schools that have never gotten any higher grade than an F or a D,"
In 2014, a corporation called White Hat that runs a fake charter school called Life Skills – with one of the worst graduation rates in the nation – began fooling kids and their parents into signing up with a key word advertising campaign aimed at folks who are online.
Private charter school companies are advertising on television, radio, billboards, and even automated telephone messages to entice students away from public schools using "key words" like free, flexible, and find your future. The funds to pay for this massive misleading advertising blitz comes from State tax payers. Ohio charter schools enroll less than 7 percent of Ohio's students yet receive 11 percent of all state funds set aside for primary and secondary education.
http://www.ohio.com/news/local/charter-school-operators-use-key-words-to-entice-families-away-from-public-schools-1.491420
As in Florida, charter schools are closing at a record rate in Ohio and sticking tax payers with the bill
Charter schools are closing in Ohio at a record rate after a series of fraud cases were uncovered. The tax payers are left to pick up the pieces and the kids suffer the loss of their schools and their education.

Charter schools are funded by the state on the backs of school districts and taxpayers. Because charter schools are exempt from most state laws and do not have a publicly elected school board, there is almost no oversight of spending at charter schools. Over $900 million dollars per year is diverted away from public schools to charter schools in Ohio every year. But the bill doesn't stop there. When there is financial mismanagement, charter schools can be closed. But it is almost impossible to get the money invested in charter schools back. Nearly $187 million in tax money spent on failed charter schools is still uncollected.
Conclusion
Fraud, corruption, mismanagement, bribes and kick back schemes… This is what happens when billionaires and their corrupt politicians promote private, for profit charter schools that are not under the control of a locally elected public school board. In this chapter, and in previous chapters, we have described a whole new set of fraud techniques that have developed a whole new charter school language. For example, cream skimming means taking all of the most successful, easy to teach and profitable children away from public schools and putting them into charter schools. Dumping means taking the poorest most challenging special needs students and expelling them from charter schools when they are not able to keep up.
What parents need to understand is that charter schools were never meant to work. Charter schools are simply another of the weapons of mass deception that billionaires are using to destroy and privatize public schools. It does not matter to the billionaires that 95% of all charter schools suffer from fraud and mismanagement. The real purpose of charter schools is to divert public funds away from real public schools. Measured through this lens, charter schools are serving their purpose. As evidence of the billionaires plan to divert funds away from public schools and into private for profit charter schools, check out this chart of the change in funding from major foundations (also known as billionaire tax dodges) since 2000: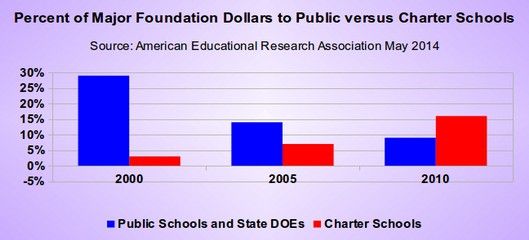 Billions of dollars that used to go towards the improvement of public schools has been shifted towards the funding of private for profit charter schools. Thankfully, because of all of the charter school scandals, public support for charter schools is starting to drop. An August 2014 poll in Michigan found that 73 percent of responders want a moratorium on the creation of new charter schools.
http://www.freep.com/article/20140831/NEWS06/308310070/charter-schools-poll-Michigan
In communities around the nation, announcements about new charter operations opening up have been greeted with public protests. While law markers continue to pass laws promoting charter schools, they do so at their peril. The day will come when parents will blame legislators for the harm that has been inflicted on their children. Hopefully, these corrupt legislators will be voted out of office just as Tom Corbett was in Pennsylvania.
What is next?
Now that we better understand the level of fraud that occurs in charter schools, we will take a closer look at how one particular charter school called KIPP inflicts abuse on children forced to endure its unusual methods. 
Originally published at Weapons of Mass Deception