Former Kirkland mayor Joan McBride  spoke Sunday at the Legislative Action Committee meeting of the King County Democrats.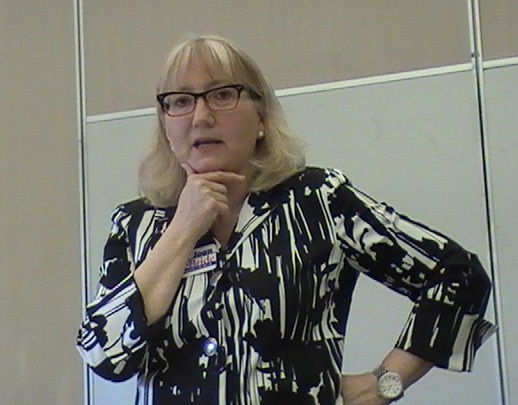 McBride is challenging Rodney Tom for the state senate seat in the 48th LD.
Contrary to rumors that had been spreading around facebook, Ms. McBride never was a Republican.  She is apparently a real Democrat and a progressive. She volunteered for the George McGovern campaign.  She recently married Margaret, her partner of 14 years   As mayor and city council member in Kirkland, she worked hard to support growth management, public transportation, and human services.  She was active in numerous civic groups (biography).
She said she's running out of anger and a sense of betrayal at Rodney Tom's kowtowing to the hard right Tea Party and climate denying Republicans.
"I am going to run as a Democrat. I am a progressive."
Asked about her opinion of charter schools, McBride said that she supports any way that helps educate kids, as long as it doesn't take money from public schools.   She said she you can't evaluate teachers by the test scores of their students.
It's not evident from her photo, but she has a sparkle in her eye and a good sense of humor. (See video below.) I got good vibes from her. With 16+ years of experience on the Kirkland city council, she is good with people.
Her website is http://joanmcbride.com/.
Comments
comments