With the exception of Whitman County (population 44,776), the counties that voted for Mitt Romney in 2012 are less educated than those that voted for Barack Obama, as measured by the percent of citizens 25 years and over with at least a bachelors degree.  Click on the image for a larger version.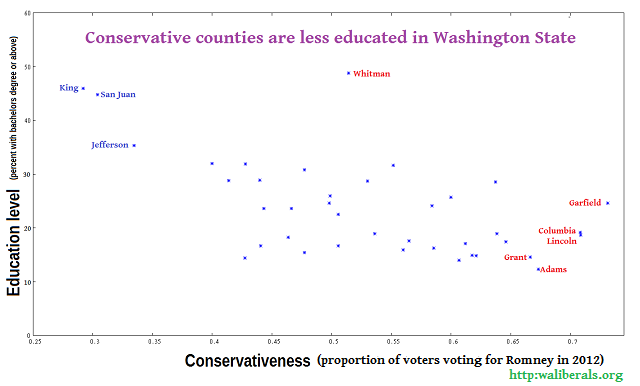 Notice that the points cluster on a line with negative slope, going from King County in the upper-left down towards Adams County in the lower right.
Source: US census and the Washington Secretary of States 2012 election results here.  Raw data below.
---
Ordered by conservativeness (increasing)
+--------------+------------------+----------------------------+-----------------+
| county       | conservativeness | bachelors_or_above_percent | population_2010 |
+--------------+------------------+----------------------------+-----------------+
| King         |           0.2921 |                         46 |         1931249 |
| San Juan     |           0.3039 |                       44.8 |           15769 |
| Jefferson    |           0.3346 |                       35.3 |           29872 |
| Thurston     |           0.3997 |                         32 |          252264 |
| Snohomish    |           0.4137 |                       28.8 |          713335 |
| Grays Harbor |           0.4274 |                       14.4 |           72797 |
| Whatcom      |           0.4279 |                       31.9 |          201140 |
| Kitsap       |           0.4399 |                       28.9 |          251133 |
| Pacific      |           0.4406 |                       16.7 |           20920 |
| Pierce       |           0.4433 |                       23.6 |          795225 |
| Mason        |           0.4636 |                       18.3 |           60699 |
| Skagit       |           0.4664 |                       23.6 |          116901 |
| Cowlitz      |           0.4772 |                       15.4 |          102410 |
| Island       |           0.4772 |                       30.8 |           78506 |
| Clallam      |           0.4981 |                       24.6 |           71404 |
| Clark        |           0.4988 |                         26 |          425363 |
| Wahkiakum    |           0.5056 |                       16.7 |            3978 |
| Skamania     |           0.5056 |                       22.5 |           11066 |
| Whitman      |           0.5142 |                       48.8 |           44776 |
| Spokane      |           0.5299 |                       28.7 |          471221 |
| Klickitat    |           0.5362 |                       18.9 |           20318 |
| Kittitas     |           0.5517 |                       31.7 |           40915 |
| Yakima       |           0.5598 |                       15.9 |          243231 |
| Okanogan     |           0.5647 |                       17.6 |           41120 |
| Chelan       |           0.5839 |                       24.1 |           72453 |
| Asotin       |           0.5855 |                       16.3 |           21623 |
| Walla Walla  |           0.5999 |                       25.7 |           58781 |
| Ferry        |           0.6066 |                         14 |            7551 |
| Pend Oreille |           0.6118 |                       17.1 |           13001 |
| Lewis        |           0.6176 |                       14.9 |           75455 |
| Franklin     |           0.6208 |                       14.8 |           78163 |
| Benton       |           0.6373 |                       28.6 |          175177 |
| Stevens      |           0.6382 |                       18.9 |           43531 |
| Douglas      |           0.6459 |                       17.4 |           38431 |
| Grant        |           0.6661 |                       14.6 |           89120 |
| Adams        |           0.6731 |                       12.3 |           18728 |
| Lincoln      |           0.7083 |                       19.2 |           10570 |
| Columbia     |           0.7085 |                       18.7 |            4078 |
| Garfield     |           0.7310 |                       24.6 |            2266 |
+--------------+------------------+----------------------------+-----------------+
39 rows in set (0.00 sec)
---
Ordered by education level (decreasing):
+--------------+------------------+----------------------------+-----------------+
| county       | conservativeness | bachelors_or_above_percent | population_2010 |
+--------------+------------------+----------------------------+-----------------+
| Whitman      |           0.5142 |                       48.8 |           44776 |
| King         |           0.2921 |                         46 |         1931249 |
| San Juan     |           0.3039 |                       44.8 |           15769 |
| Jefferson    |           0.3346 |                       35.3 |           29872 |
| Thurston     |           0.3997 |                         32 |          252264 |
| Whatcom      |           0.4279 |                       31.9 |          201140 |
| Kittitas     |           0.5517 |                       31.7 |           40915 |
| Island       |           0.4772 |                       30.8 |           78506 |
| Kitsap       |           0.4399 |                       28.9 |          251133 |
| Snohomish    |           0.4137 |                       28.8 |          713335 |
| Spokane      |           0.5299 |                       28.7 |          471221 |
| Benton       |           0.6373 |                       28.6 |          175177 |
| Clark        |           0.4988 |                         26 |          425363 |
| Walla Walla  |           0.5999 |                       25.7 |           58781 |
| Clallam      |           0.4981 |                       24.6 |           71404 |
| Garfield     |           0.7310 |                       24.6 |            2266 |
| Chelan       |           0.5839 |                       24.1 |           72453 |
| Skagit       |           0.4664 |                       23.6 |          116901 |
| Pierce       |           0.4433 |                       23.6 |          795225 |
| Skamania     |           0.5056 |                       22.5 |           11066 |
| Lincoln      |           0.7083 |                       19.2 |           10570 |
| Stevens      |           0.6382 |                       18.9 |           43531 |
| Klickitat    |           0.5362 |                       18.9 |           20318 |
| Columbia     |           0.7085 |                       18.7 |            4078 |
| Mason        |           0.4636 |                       18.3 |           60699 |
| Okanogan     |           0.5647 |                       17.6 |           41120 |
| Douglas      |           0.6459 |                       17.4 |           38431 |
| Pend Oreille |           0.6118 |                       17.1 |           13001 |
| Wahkiakum    |           0.5056 |                       16.7 |            3978 |
| Pacific      |           0.4406 |                       16.7 |           20920 |
| Asotin       |           0.5855 |                       16.3 |           21623 |
| Yakima       |           0.5598 |                       15.9 |          243231 |
| Cowlitz      |           0.4772 |                       15.4 |          102410 |
| Lewis        |           0.6176 |                       14.9 |           75455 |
| Franklin     |           0.6208 |                       14.8 |           78163 |
| Grant        |           0.6661 |                       14.6 |           89120 |
| Grays Harbor |           0.4274 |                       14.4 |           72797 |
| Ferry        |           0.6066 |                         14 |            7551 |
| Adams        |           0.6731 |                       12.3 |           18728 |
+--------------+------------------+----------------------------+-----------------+
39 rows in set (0.00 sec)