Washington State counties with a higher percentage of people living below the poverty line tend to vote Republican.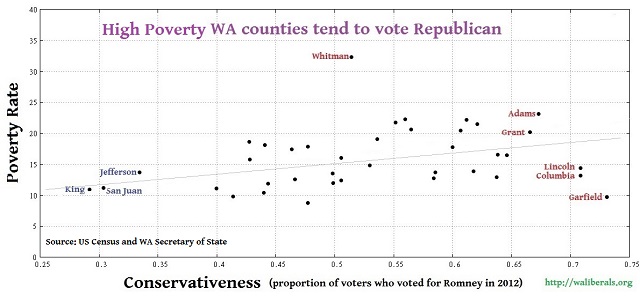 Poverty is defined as the percentage of residents living below the poverty line, according to the 2010 US census.  Conservativeness is defined as the proportion of voters who voted for Romney (versus Obama) in 2012.  Source of data: US census and the Washington Secretary of States 2012 election results.  Raw data below.
Garfield County (population 2266) is an outlier: it has a low poverty rate but voted overwhelmingly for Romney.  Whitman County (population 44,776) is another outlier, because it's poverty rate is so high (32.3%);  51.4% of its voters chose Romney.
One possible confounding factor is that the cost of living near King County is higher than elsewhere. How this affects the poverty rate is unclear. If the census determines poverty independent of the cost of living, then the effective poverty rate in King County could be higher than the graph suggests.
For the US as a whole (additional data from the Guardian), there is no such clear correlation between conservativeness and the poverty rate: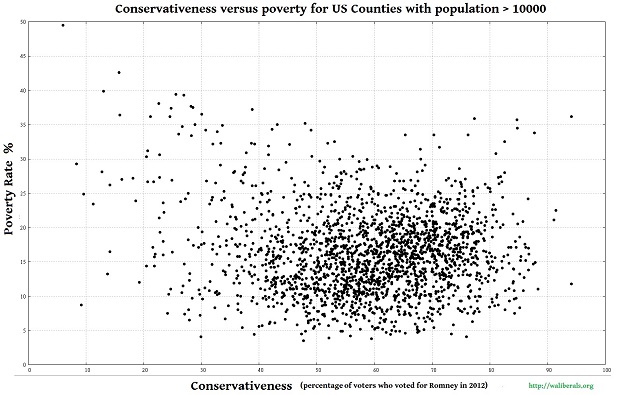 In fact, there are some points on the upper-left of the scatter-plot, representing high poverty counties that are liberal. On the other hand, there is no strong correlation between conservativeness and poverty.
Counties ordered by conservativeness:
+--------------+------------------+-----------+-----------------+
| county       | conservativeness | poverty % | population_2010 |
+--------------+------------------+-----------+-----------------+
| King         |       0.29214669 |      10.9 |         1931249 |
| San Juan     |      0.303927315 |      11.2 |           15769 |
| Jefferson    |      0.334569577 |      13.7 |           29872 |
| Thurston     |      0.399654568 |      11.1 |          252264 |
| Snohomish    |      0.413694437 |       9.8 |          713335 |
| Grays Harbor |      0.427423405 |      18.6 |           72797 |
| Whatcom      |      0.427920073 |      15.8 |          201140 |
| Kitsap       |      0.439932402 |      10.4 |          251133 |
| Pacific      |      0.440646425 |      18.1 |           20920 |
| Pierce       |      0.443321379 |      11.9 |          795225 |
| Mason        |      0.463614895 |      17.4 |           60699 |
| Skagit       |      0.466359121 |      12.6 |          116901 |
| Island       |      0.477204683 |       8.8 |           78506 |
| Cowlitz      |       0.47722672 |      17.9 |          102410 |
| Clallam      |      0.498068455 |      13.5 |           71404 |
| Clark        |      0.498843468 |        12 |          425363 |
| Skamania     |      0.505550329 |      12.4 |           11066 |
| Wahkiakum    |      0.505648441 |        16 |            3978 |
| Whitman      |      0.514204545 |      32.3 |           44776 |
| Spokane      |      0.529851089 |      14.8 |          471221 |
| Klickitat    |      0.536211418 |      19.1 |           20318 |
| Kittitas     |      0.551689132 |      21.8 |           40915 |
| Yakima       |      0.559783184 |      22.3 |          243231 |
| Okanogan     |      0.564700838 |      20.6 |           41120 |
| Chelan       |      0.583930951 |      12.8 |           72453 |
| Asotin       |      0.585482033 |      13.7 |           21623 |
| Walla Walla  |      0.599934469 |      17.8 |           58781 |
| Ferry        |      0.606567345 |      20.5 |            7551 |
| Pend Oreille |      0.611764705 |      22.2 |           13001 |
| Lewis        |      0.617586665 |      13.9 |           75455 |
| Franklin     |      0.620789307 |      21.5 |           78163 |
| Benton       |      0.637334742 |      12.9 |          175177 |
| Stevens      |      0.638185801 |      16.6 |           43531 |
| Douglas      |      0.645946131 |      16.5 |           38431 |
| Grant        |      0.666069696 |      20.1 |           89120 |
| Adams        |      0.673105497 |      23.1 |           18728 |
| Lincoln      |      0.708333333 |      14.4 |           10570 |
| Columbia     |      0.708540442 |      13.2 |            4078 |
| Garfield     |      0.730984787 |       9.7 |            2266 |
+--------------+------------------+-----------+-----------------+
39 rows in set (0.01 sec)
Counties ordered by poverty rate:
+--------------+------------------+-----------+-----------------+
| county       | conservativeness | poverty % | population_2010 |
+--------------+------------------+-----------+-----------------+
| Island       |      0.477204683 |       8.8 |           78506 |
| Garfield     |      0.730984787 |       9.7 |            2266 |
| Snohomish    |      0.413694437 |       9.8 |          713335 |
| Kitsap       |      0.439932402 |      10.4 |          251133 |
| King         |       0.29214669 |      10.9 |         1931249 |
| Thurston     |      0.399654568 |      11.1 |          252264 |
| San Juan     |      0.303927315 |      11.2 |           15769 |
| Pierce       |      0.443321379 |      11.9 |          795225 |
| Clark        |      0.498843468 |        12 |          425363 |
| Skamania     |      0.505550329 |      12.4 |           11066 |
| Skagit       |      0.466359121 |      12.6 |          116901 |
| Chelan       |      0.583930951 |      12.8 |           72453 |
| Benton       |      0.637334742 |      12.9 |          175177 |
| Columbia     |      0.708540442 |      13.2 |            4078 |
| Clallam      |      0.498068455 |      13.5 |           71404 |
| Asotin       |      0.585482033 |      13.7 |           21623 |
| Jefferson    |      0.334569577 |      13.7 |           29872 |
| Lewis        |      0.617586665 |      13.9 |           75455 |
| Lincoln      |      0.708333333 |      14.4 |           10570 |
| Spokane      |      0.529851089 |      14.8 |          471221 |
| Whatcom      |      0.427920073 |      15.8 |          201140 |
| Wahkiakum    |      0.505648441 |        16 |            3978 |
| Douglas      |      0.645946131 |      16.5 |           38431 |
| Stevens      |      0.638185801 |      16.6 |           43531 |
| Mason        |      0.463614895 |      17.4 |           60699 |
| Walla Walla  |      0.599934469 |      17.8 |           58781 |
| Cowlitz      |       0.47722672 |      17.9 |          102410 |
| Pacific      |      0.440646425 |      18.1 |           20920 |
| Grays Harbor |      0.427423405 |      18.6 |           72797 |
| Klickitat    |      0.536211418 |      19.1 |           20318 |
| Grant        |      0.666069696 |      20.1 |           89120 |
| Ferry        |      0.606567345 |      20.5 |            7551 |
| Okanogan     |      0.564700838 |      20.6 |           41120 |
| Franklin     |      0.620789307 |      21.5 |           78163 |
| Kittitas     |      0.551689132 |      21.8 |           40915 |
| Pend Oreille |      0.611764705 |      22.2 |           13001 |
| Yakima       |      0.559783184 |      22.3 |          243231 |
| Adams        |      0.673105497 |      23.1 |           18728 |
| Whitman      |      0.514204545 |      32.3 |           44776 |
+--------------+------------------+-----------+-----------------+
39 rows in set (0.00 sec)