34% of Big, Profitable US Corporations Paid $0 in Federal Taxes in 1st Year of Trump Tax Law
Politico: Donald Trump dined with white nationalist, Holocaust denier Nick Fuentes
Homeland Security Admits It Tried to Manufacture Fake Terrorists for Trump
A new Homeland Security report details orders to connect protesters arrested in Portland to one another in service of Trump's imaginary antifa plot.
Herschel Walker: "We're the greatest country in the U.S.".
Republican states have higher rates of gun deaths, poverty, suicides, teen births, crime, and divorce, and they die younger and are less educated
Yahoo News: 'Hypocrisy Off The Charts': Lindsey Graham Mocked For Tearful Herschel Walker Plea
In an appearance Thursday on Sean Hannity's Fox News program, [Senator Lindsey] Graham accused Walker's critics of "trying to destroy" the candidate and "his family."

In fact, member of Walker's own family have criticized him. His 23-year-old son, Christian Walker, has instructed his dad on social media to "wear a condom" and stop fathering out-of-wedlock children he doesn't raise.

"You're not a 'family man' when you left us to bang a bunch of women, threatened to kill us, and had us move over 6 times in 6 months running from your violence," Walker's son posted.

The conservative "family man" tearfully backed by Graham has been accused by two former lovers of pushing for and even funding abortions, which he now supports making illegal. Walker has denied the accusations but said there would be "nothing to be ashamed of" if he had paid for an abortion.
Americans die younger in states run by conservatives, study finds
Jared Kushner's Firm to Pay $3.25M for Deceiving, Cheating Tenants in Baltimore
Newsweek: GOP Is 'Dangerous,' Former Pence Adviser Defends Biden's Anti-MAGA Speech
After fearmongering about voter fraud, McConnell now admits it almost never happens McConnell said, "Very little election fraud. There is some, we've had people in Kentucky go to jail for that. It happens occasionally. But our democracy is solid and I don't think, of the things we need to be worried about, I wouldn't be worried about that."
Longtime GOP insider Cheri Jacobus: America is "not going to recover from Donald Trump" Former Republican strategist says her party can't be salvaged — and if Trump isn't punished, America is "done for."
You can't ignore Donald Trump. He is too dangerous. One of the main problems now is that Trump has successfully said to his followers, "Only pay attention to Fox or Breitbart or Newsmax. Everybody else is fake news. They're all lying to you." Once you put those tens of millions of people in an information vacuum with their blinders on, we are in very dangerous territory as a society.
Trump Wants Concentration Camps and Presidential Control of Domestic Troops "The disgraced former president said the next chief executive should take control of the National Guard from state governors and deploy troops to quell cities."
Russian propagandists whine that 'the way we elected' Donald Trump is impossible in Great Britain
Popov, meanwhile, crowed that "it would be great if we were replacing those leaders the way we elected President Trump of the US.
Mitt Romney warns U.S democracy is facing dire 'threats' to its survival because of Trump.
DeSantis vows to eliminate gun permits and background checks in Florida
HuffPost: Republicans Cheer As Congressional Candidate Demands Fauci's Execution By Firing Squad
Jared Kushner's $2 billion deal with Saudi Arabia sure looks corrupt
Red States Have Higher Crime Rates Than Blue States. Red states also higher rates of poverty and teenage pregnancy. Politifact says that "9 of the 10 poorest states are Republican".  Likewise, Republican-controlled states have higher murder rates than Democratic ones: study.
Dark Money review: Nazi oil, the Koch brothers and a rightwing revolution
Here's why the Republicans suddenly love the Post Office "The Republicans are about to win a major battle in their war on electric vehicles, this time with the second largest vehicle fleet in America owned by the US Postal Service. It's an outrageous story that most Americans don't know a thing about."
Trump rips GOP senator who called 2020 election 'fair' "Former President Trump on Monday tore into Sen. Mike Rounds after the South Dakota Republican rejected Trump's baseless claims about the 2020 presidential election."
Ginni Thomas, Wife of Clarence, Cheered On the Rally That Turned Into the Capitol Riot "GOD BLESS EACH OF YOU STANDING UP or PRAYING!"
Trump's ridiculous malapropisms
MAGA Sycophant Calls for Staging an 'Intervention' Over Trump's Vax Support "Ardently pro-Trump radio host Wayne Allyn Root wants to stage an "intervention" with Donald Trump over the ex-president's support for the COVID-19 vaccine." Likewise, Business Insider reports that Fringe factions of MAGA world are imploding after Trump publicly advocated for the COVID-19 vaccine.  Donald Trump was booed during a speech because he asked the audience to vaccinate. Conspiracy theorist and InfoWars talk-show host Alex Jones and the recently subpoenaed "Stop the Steal" organizer Ali Alexander have both condemned Trump's stance.
As executives hike prices, US corporations rake in biggest profits since 1950
NPR: Former gun industry insider explains why he left to fight for the other side
Forbes: Breitbart Leads Climate Change Misinformation On Facebook, Study Says
The Guardian: Climate misinformation on Facebook 'increasing substantially', study says
Time: Greenwashing on Facebook: How the World's Biggest Polluters Use Social Media to Obfuscate on Climate Change
CCDH: The Toxic Ten – How 10 fringe publishers fuel 69% of digital climate change denial

Arizona Republican Rep. Paul Gosar posted a video that depicts him murdering
Rep. Alexandria Ocasio-Cortez.
Trump's Sprawling Use of NDAs Now Threatens to Humiliate Him "An arbitrator's ruling on one of the gag orders could open the floodgates" on non-disclosure agreements.
Trump legal team had 6-point plan to steal the election from Biden
PolitiFact agrees: Rick Scott 'oversaw the largest Medicare fraud' in U.S. history
Ads Distort How Much Biden's Tax Plans Could Cost 'Your Family'
GOP ignores report showing Biden plan would cut taxes for the middle class
Former House Speaker Paul Ryan says it's 'really clear' Biden won fairly in 2020 as Wisconsin GOP leaders pursue $680,000 election audit
The Great American Science Heist How the Bayh-Dole Act Wrested Publicly-Financed Research From the People's Hands.
Republicans backed corporate lobbyists to justify private monopolies based on publicly-funded research in the name of international competitiveness.
Why Some White Evangelical Republicans Are So Opposed To The COVID-19 Vaccine Sixty-nine percent of white evangelical Republicans who said they refused to get vaccinated agreed that the end times were near.
Formaldehyde Causes Leukemia, According to EPA Assessment Suppressed by Trump Officials
Trump's bad deal with the Taliban
"Now, twenty years later, after the deaths of hundreds of thousands of Afghans and a few thousands international military including the U.S., the U.S. and its NATO partners are exiting Afghanistan under a pitiful agreement brokered during the Trump administration by former U.S. Ambassador to Afghanistan Zalmay Khalizad, himself an Afghan who came to the U.S. as a teenager.  The deal with the Taliban sold out the government of Afghanistan and ended up with the release of 6,000 Taliban prisoners for an agreement that the Taliban would not fire on U.S. military during its departure from Afghanistan. No deal was struck for power-sharing or any other aspect that could have put the government of Afghanistan on a strong negotiating footing. After the U.S. undercut the Afghan government,  it is now left with no leverage in dealing with the Taliban and is facing the rapid takeover of the country as many of the 300,000 Afghan personnel trained by the U.S. and NATO militaries surrender to the Taliban or return to the warlord militias from which they came.
The rightwing US textbooks that teach slavery as 'black immigration'
Major Tea Party Group Was Backed by Salsa Billionaire and Other Wealthy Donors, Hacked Documents Reveal Tea Party Patriots' web database contained only a small fraction of the "3 million patriots" it heralds on its site.
How Republicans unleashed a new crime wave in America — through worsening inequality … including refusing to fund the IRS.
Some people in Missouri are getting vaccinated in secret to avoid backlash from loved ones, doctor says.
Lincoln Project seeks to destroy 'irredeemable' GOP and leave it a 'smoking ruin,' co-founder says Reed Galen says the primary struggle in American politics is not between Democrats and Republicans, but between democracy and authoritarianism
Former Fox Exec Calls Network 'Poison For America' In Blistering Rebuke
A former top Fox Broadcasting executive has voiced a searing condemnation of Fox News, calling it "poison for America" and saying even the network's owner, Rupert Murdoch, doesn't believe its coverage.
He accused the channel, particularly its prime-time opinion programming, of making a substantial and direct contribution to: COVID-19 deaths via vaccine and mask misinformation; societal divisions by stoking racial animus and spreading falsehoods about Black Lives Matter protests; former President Donald Trump's "Big Lie" about the 2020 election; and the violent Jan. 6 attack on the U.S. Capitol led by his supporters.
Court Rules That EPA's Delay "Exposed a Generation of American Children" to Brain-Damaging Pesticide Chlorpyrifos "The ruling represents a stark repudiation of the Trump EPA's refusal to ban chlorpyrifos."
Former OAN and Alex Jones producers recall pushing 'disinformation' in far-right media's 'massively funded ecosystem'
Befuddled Larry Kudlow Rails That Biden Will Force Americans To Guzzle 'Plant-Based Beer' Donald Trump's former economic adviser Larry Kudlow "wants the nation to know that President Joe Biden is plotting to force Americans to drink "plant-based beer.""
Chemical Industry Lobbyist in Trump EPA Suppressed Evidence of Cancer Risk
Three-quarters of Republicans believe lie that 2020 election was fraudulent
Despite the fact that he [Trump] never provided ANY evidence to back up that claim — and the fact that courts across the country roundly rejected lawsuits on the matter as specious (at best) — Trump quite clearly convinced lots and lots of Republicans of his false view.

How many? Try 76% of self-identified Republicans in a new national Quinnipiac University poll. That's the number of Republicans who said they believe there was "widespread fraud in the 2020 election."
USA Today: Judge rips Arizona GOP for 'groundless' lawsuit challenging Biden's win, orders it to pay legal fees
GOP County Chair Blasts Pat Toomey Vote: 'We Did Not Send Him There to Do the Right Thing' "We did not send him there to vote his conscience. We did not send him there to do the right thing or whatever he said he was doing," Ball said. "We sent him there to represent us."
57 GOP State And Local Officials Were At The Capitol Insurrection
Mitch McConnell blames Trump for lies and incitement of violence
"There is no question — none — that President Trump is practically and morally responsible for provoking the events of the day. No question about it," McConnell said. "The people who stormed this building believed they were acting on the wishes and instructions of their president. And having that belief was a foreseeable consequence of the growing crescendo of false statements, conspiracy theories and reckless hyperbole which the defeated president kept shouting into the largest megaphone on planet Earth."

McConnell went through the defenses mounted by Trump's attorneys, dismissing each. He expressed agreement with many of the House manager's arguments.

McConnell also dismissed the Trump attorneys' claim that impeachment was an attempt "to disenfranchise 74 million-plus American voters" who voted for Trump in the 2020 election.

"That's an absurd deflection," McConnell said. "Seventy-four million Americans did not invade the Capitol. Hundreds of rioters did. Seventy-four million Americans did not engineer the campaign of disinformation and rage. … One person did. Just one."
New details about Trump-McCarthy shouting match show Trump refused to call off the rioters
In an expletive-laced phone call with House Republican leader Kevin McCarthy while the Capitol was under attack, then-President Donald Trump said the rioters cared more about the election results than McCarthy did.

"Well, Kevin, I guess these people are more upset about the election than you are," Trump said, according to lawmakers who were briefed on the call afterward by McCarthy.

McCarthy insisted that the rioters were Trump's supporters and begged Trump to call them off.
Trump's comment set off what Republican lawmakers familiar with the call described as a shouting match between the two men. A furious McCarthy told the then-President the rioters were breaking into his office through the windows, and asked Trump, "Who the f–k do you think you are talking to?" according to a Republican lawmaker familiar with the call.
Yale Study Says Medicare for All Would Save U.S. $450 Billion, Prevent Nearly 70,000 Deaths a Year
'Downright Scary': In 2021 Alone, GOP Introduces 100+ Voter Suppression Bills in 28 States
GOP senator warns his party must decide between 'conservatism and madness' "Something has definitely changed over the last four years, but it's not me," Nebraska Senator Ben Sasse said. "Personality cults aren't conservative. Conspiracy theories aren't conservative. Lying that an election has been stolen, it's not conservative. Acting like politics is a religion, it isn't conservative."
Fox News: McConnell to Senate: Mob that attacked Capitol was 'fed lies' and 'provoked' by Trump
GOP group launches billboard campaign urging Cruz, Hawley to resign
An anti-Trump Republican group is launching a seven-figure billboard campaign calling on a dozen GOP lawmakers to resign in the wake of the Jan. 6 insurrection at the U.S. Capitol.

"You lied about the election. The Capitol was attacked. Sen. Cruz: Resign," one billboard targeting Cruz reads. Cruz was among the most prominent Republican lawmakers who helped spread Trump's false claims of voter fraud and electoral malfeasance after his loss to President Biden in November.
PBS: Trump's pardons included health care execs behind massive frauds
Jan 18, 2021 (Newsweek); 3 in 4 Republicans Don't Think Joe Biden Won Election Legitimately: Poll
GOP supporters' lack of confidence in the election results has been fueled by Donald Trump and Republican lawmakers continuously pushing unfounded claims of voter fraud.

Judges across the U.S. have been throwing out swathes of legal suits filed by Trump's team in a bid to overthrow the results, saying there is not sufficient evidence to indicate widespread election fraud. However, Trump supporters continue to peddle the claims, leading to an angry mob storming Capitol Hill on January 6.
The More We Learn About the Coup, the Worse it Gets "What Happened On Capitol Hill Looks Like an Organized Conspiracy to Violently Overthrow Democracy"
Let's begin with the behaviour of the Trumpists who stormed the Capitol. One of the truly shocking details is that they shot up the Capitol. And then they smeared feces on the walls of the Capitol, while urinating on its floors. Who does that?

They were chanting death threats on their way to Capitol Hill. They were chanting death threats at Mike Pence, for refusing to overturn the election. They built a noose and gallows.

They left active pipe bombs at the Republican and Democratic national committees.

The coup wasn't just made up of pot-bellied losers mad they could never get a date. It was made up, too, far more dangerously, of military professionals.Let's begin with the behaviour of the Trumpists who stormed the Capitol. One of the truly shocking details is that they shot up the Capitol. And then they smeared feces on the walls of the Capitol, while urinating on its floors. Who does that?

They were chanting death threats on their way to Capitol Hill. They were chanting death threats at Mike Pence, for refusing to overturn the election. They built a noose and gallows.

They left active pipe bombs at the Republican and Democratic national committees.

The coup wasn't just made up of pot-bellied losers mad they could never get a date. It was made up, too, far more dangerously, of military professionals.
Lee Camp: America Condemns One Violent Mob While Celebrating Another
Democratic lawmaker confronted in airport by Trump supporters "Video posted to Instagram shows Democratic Rep. Lou Correa of California being screamed at by apparent pro-Trump supporters in the Dulles International Airport last Thursday, the latest lawmaker accosted by the President's supporters at an airport."
'Somebody Has to Pay': GOP Lawmaker's 3 Siblings Want His Removal From Congress Over Riot David Gosar said Paul Gosar "has parroted the exact same lies that Trump has," in regards to the election. The Arizona representative was one of the Republican congressmen who objected to the electoral vote certification when Congress reconvened after the riot Wednesday night.
NY Post: Rosanne Boyland, woman killed in DC riots, was trampled by crowd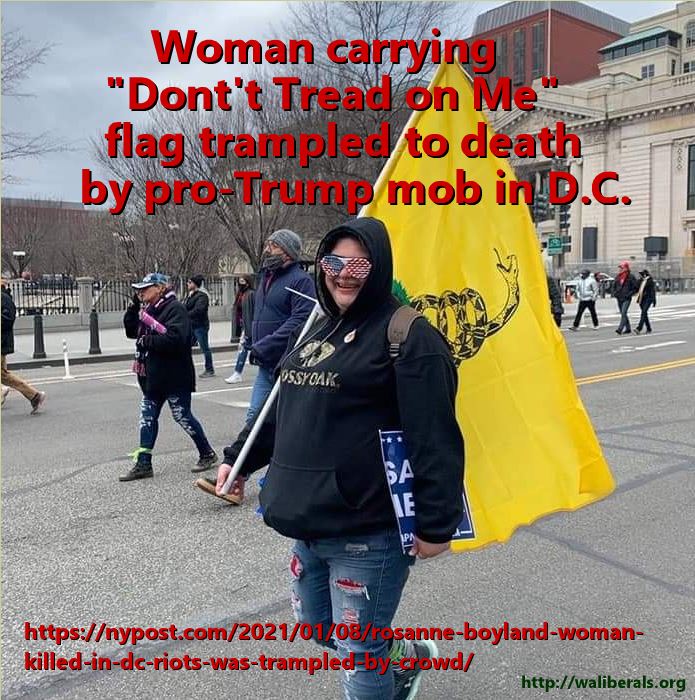 Capitol Police': Far-right protesters storm U.S. Capitol amid antisemitic claims over election "Several notorious white supremacists attended the rally outside the Capitol and were among those who broke through police lines to enter the building."
Man photographed in Pelosi's office identified as Arkansas Trump supporter
Twitter Locks Trump's Account After Violence on Capitol Hill
From the National Review (conservative magazine): Trump's Final Insult
The Trump administration is a thoroughgoing failure on the president's own terms: The administration has managed to reorder worldwide trade relations — by witlessly facilitating the creation of a new trade pact between China and the European Union, an alliance of the world's second- and third-largest economies at the expense of the one that remains, for now, the largest. China is in a stronger geopolitical position today than it was in 2016, and the United States is diminished. Trump focused on the trade deficit, which is the wrong policy, but he can't even get that right: Our trade deficits are larger than ever. On immigration, there is no big, beautiful wall paid for by Mexico, nor has there been any broad reform of U.S. immigration law. The president spent the critical early days of the coronavirus epidemic trying to tweet the virus into submission because he feared a declining stock market would hurt his reelection chances. He has uttered more lies himself than can be counted, and he sent his minions out to tell countless more. He has dishonored, disfigured, and debased everything he has touched. It has been a shameful spectacle.
GOP congressman posts video debunking Trump's election fraud claim
GOP Sen. Sasse Blasts "Ambitious" Republicans "Playing With Fire" in Challenging 2020 Result
The president and those in Congress who are trying to aid his efforts to overturn the result "are playing with fire," Sasse added, characterizing his colleagues who will pursue the initiative as "institutional arsonist members of Congress." Ultimately, Sasse said, "We have good reason to think this year's election was fair, secure, and law-abiding."
The Unbearable Weakness of Trump's Minions
Every single attempt to prove that the election was marked by fraud or that President-elect Biden's win is illegitimate—an effort that now includes about 60 lawsuits—has flopped. In fact, what we've discovered since the November 3 election is that it was "the most secure in American history," as election experts in Trump's own administration have declared. But this immutable, eminently provable fact doesn't deter Trump and many of his allies from trying to overturn the election; perversely, it seems to embolden them.
UN says Trump Blackwater pardons violate international law "A United Nations panel on Wednesday said that President Trump's pardons for several former Blackwater contractors convicted of killing more than a dozen civilians in Baghdad violated international law."
'Toxic Individualism': Pandemic Politics Driving Health Care Workers From Small Towns. Anti-mask conservatives drive out health care workers.
Republicans sue Mike Pence in 'desperate' last-ditch effort to overturn election
Rudy Giuliani Denies He Did Anything Wrong in New 'Borat' Movie Giuliania is shown on a bed with his hands down his pants, with an actress, as part of the new Borat film.
The Republican heroes and villains of Trump's attempt to steal the election Some Republicans went along with Trump's baseless allegations of voter fraud; other Republicans stood up to the attempt to steal the election.
Voter fraud discovered in Pennsylvania: two instances of multiple ballots cast for Trump
Pennsylvania's lieutenant governor is claiming that Texas Lt. Gov. Dan Patrick (R) owes his state money after law enforcement officials in Pennsylvania uncovered isolated instances of voter fraud in recent weeks. State officials in Pennsylvania have in recent weeks uncovered at least three instances of voter fraud, two of which involved cases of citizens casting multiple ballots for President Trump.
A 'cult president'? Breaking down Trump's support
Televangelist Pat Robertson says Trump lives in an 'alternate reality' and should move on from election loss
Robertson — who prayed for Trump's win in 2020 and once suggested that whoever is "revolting" against Trump is "revolting against what God's plan is for America" — joins a growing list of prominent conservatives who are telling Trump it's time to accept his clear election loss.
Military Times: No, the Chinese are not on the border of Maine — and the dangers of misinformation "Recent posts from a QAnon-backing Twitter handle with nearly 50,000 followers claimed that tens of thousands of Chinese troops had amassed along Maine's border with Canada and that an F-16 fighter that crashed last week in Michigan was actually shot down — presumably by the Chinese. (QAnon has, in recent years, become an increasingly dangerous conspiracy theory claiming, among other outlandish things, that President Donald Trump is fighting a horde of deep state pedophiles.)"
Trump Reportedly Asked Advisors About Deploying Military To Overturn Election
On Thursday, Flynn said that Trump could deploy the military to swing states he lost to President-elect Joe Biden in order to "rerun" the presidential election. During the meeting, Trump also floated naming the conspiracy-theorist attorney Sidney Powell—who has pushed a baseless theory that long-dead Venezuelan leader Hugo Chavez rigged voting machines—as special counsel to investigate voter fraud. New York Times White House correspondent Maggie Haberman reported Saturday that the president asked about Flynn's idea, as senior officials are reportedly becoming very unsettled by Trump's escalating interest in crackpot plans during his last days in power.
Reuters: U.S. whistleblower was pressed to exaggerate leftist role in urban protests, lawyer says
A former acting chief of the U.S. Department of Homeland Security's intelligence office has told Congress that DHS leaders pressed him to overstate illegal border crossings from Mexico and overplay the role of far left groups in violence during anti-government protests last summer, his lawyer said. …. In a Sept. 8 whistleblower complaint, Murphy accused President Donald Trump's acting DHS chief, Chad Wolf, of having told him to hold back on circulating assessments of the threat of Russian interference in the approaching Nov. 3 election in part because it "made the President look bad." Wolf also asked Murphy to play down U.S. white supremacist activity, the complaint said.
lol. Oops: Jared Kushner Reportedly Created a Shell Company to Secretly Pay Trump Family Members and Spend Half the Campaign's Cash
Trump moved cyber security budget to pay for his wall before major hacking assault
TAKE OVER' Proud Boys planning to disguise themselves as Biden fans to start violence at his inauguration
Yahoo News: MAGA Marchers and Proud Boys Descend on D.C., Setting Fire to Churches' Black Lives Matter Signs and Getting into Stabbing Fights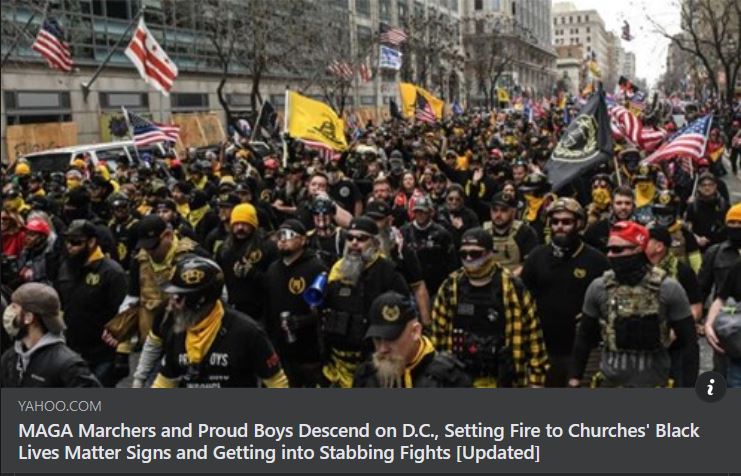 Fifty Years of Tax Cuts for Rich Didn't Trickle Down, Study Says "Tax cuts for rich people breed inequality without providing much of a boon to anyone else, according to a study of the advanced world that could add to the case for the wealthy to bear more of the cost of the coronavirus pandemic."
READ: Rep. Paul Mitchell's letter quitting the GOP, fearing 'long-term harm to our democracy' with its support for Trump's actions   Michigan Republican Rep. Paul Mitchell told CNN that his disgust and disappointment with President Donald Trump's efforts to overturn the results of the election have led him to request that the clerk of the House change his party affiliation to "independent."
Doctors Call For Climate Action "Climate change is making people sick and leading to premature death, according to a pair of influential reports on the connections between global warming and health. [A] sprawling analysis published Wednesday by the medical research journal The Lancet focuses on public health data from 2019, and finds that heat waves, air pollution and extreme weather increasingly damage human health."
Evidence for Russiagate and collusion
Black And Latino Voters Flooded With Disinformation In Election's Final Days
Fox News Hits a Dangerous New Low "The most-watched news network in America is choosing to mislead its viewers about the state of the election."
Steve Bannon banned by Twitter for calling for Fauci beheading
Exclusive: Trump's 3,500 lawsuits unprecedented for a presidential nominee When Trump was a businessman he was involved in 3500 lawsuits. He regularly screwed (didn't pay) contractors.
Election Day Mayhem Began Two Years Ago With Massive Voter Purges "In the two years leading up to this election, Georgia's GOP secretary of state quietly wiped away the voter registrations of 198,351 voters — based on false information."
Trump Cheers on MAGA Caravan That Ambushed Biden Bus "President Donald Trump tweeted his support late Saturday for the MAGA caravan that reportedly tried to run a Biden campaign bus off the road in Texas, causing the former vice president to cancel a planned event in Austin. "I LOVE TEXAS!" Trump tweeted along with a video of the incident."
The White Supremacist And Extremist Donors To Trump's 2020 Campaign "President Donald Trump's 2020 campaign has repeatedly accepted donations from well-known white supremacists, extremists and bigots, Federal Election Commission records show."
Federal Agents Used Toxic Chemical Smoke Grenades in Portland Portland protesters report severe and lasting side effects from the chemical weapons used during Trump's "Operation Diligent Valor."
Leading Medical Journal Calls For End To Trump Administration "In a rare political statement from a scientific journal, the New England Journal of Medicine released an editorial Wednesday lambasting the Trump administration's response to the COVID-19 pandemic and calling on Americans to vote President Donald Trump out of office next month."
Tennessee Gov. Bill Lee Enacts Law Stripping Voting Rights From Protesters
The new details on Kimberly Guilfoyle's time at Fox News are horrific Horrid tales of sexual harassment, with connections to the Trump campaign.
22 retired 4-stars join nearly 500 national security leaders in letter endorsing Joe Biden
Hundreds of George W Bush officials endorse Biden
Fox News won a court case by 'persuasively' arguing that no 'reasonable viewer' takes Tucker Carlson seriously
Over 230 senior military officers and officials endorse Biden
From 2016: Donald Trump caught saying he will date 10-year-old girl 'in ten years' in new video
Business Insider: The wealthiest 1% has taken $50 trillion from working Americans and redistributed it, a new study finds. "Each year, $2.5 trillion — yes, trillion with a "T" — has been redistributed from the bottom 90% of Americans to the wealthiest 1 % of all Americans."
Yet another former intel official calls Trump Putin's 'useful idiot' "Multiple high-level government officials have wondered whether Putin has dirt on Trump."
Lt. Col. Alexander Vindman, the decorated war hero who retired from the Army in July after calling out "intimidation" from the White House, said in an interview published Monday morning that Trump is a "useful idiot" for Russian President Vladimir Putin.

Former FBI Agent Peter Strzok, who led the United States' investigation into Russia's meddling in the 2016 election, said on NBC News' "Meet the Press" on Sunday that, "Donald Trump is compromised by the Russians."

Meanwhile, Bob Woodward reported in his forthcoming book that Trump's former Director of National Intelligence Dan Coats had a "deep suspicions" that Russian "had something" on Trump.

Former CIA Director Michael Hayden has called Trump "Russia's useful fool," while fellow former CIA Director John Brennan has said "all roads with Trump lead to Putin."

And Barry McCaffrey, a retired four-star Army general, said in June that Trump "cannot be trusted."
Forbes (Sept 16, 2020): Trump Says With 'A Herd Mentality' Covid-19 Coronavirus Will Go Away
Scientific Consensus: Earth's Climate is Warming
"Multiple studies published in peer-reviewed scientific journals1 show that 97 percent or more of actively publishing climate scientists agree*: Climate-warming trends over the past century are extremely likely due to human activities. In addition, most of the leading scientific organizations worldwide have issued public statements endorsing this position. The following is a partial list of these organizations, along with links to their published statements and a selection of related resources: American Association for the Advancement of Science, American Chemical Society, American Geophysical Union, American Medical Association, American Meteorological Society, American Physical Society, The Geological Society of America, U.S. National Academy of Sciences, U.S. Global Change Research Program, Intergovernmental Panel on Climate Change, " and scores of international scientific organizations.
Judge rules against Ohio limiting ballot drop boxes to one per county
Scathing Letter By George Washington University Law School Faculty Condemns Attorney General William Barr "More than 80% of the faculty of George Washington University Law School, the alma mater of Attorney General William Barr, issued a scathing six-page letter this week condemning his conduct. "
Fox News Confirms The Atlantic's Report on Trump's Soldier Comments (Video) Fox News national security correspondent Jennifer Griffin confirmed reporting published by The Atlantic on Thursday that Trump had said soldiers who died in war were "suckers" and "losers."
Trump and the John Birch Society
The John Birch Society has increasingly been linked to the presidency of Donald Trump by political commentators such as Jeet Heer of The New Republic, arguing that "Trumpism" is essentially Bircherism.[11] Trump confidante and longtime advisor Roger Stone said that Trump's father Fred Trump was a financier of the Society and a personal friend of founder Robert Welch.[85] Trump's former Chief of Staff Mick Mulvaney was the speaker at the John Birch Society's National Council dinner shortly before joining the Trump administration.[86] U.S. Senator Rand Paul (R-Kentucky), widely reported to be one of Trump's top advisors on foreign policy, is also tied to the John Birch Society.[87] The senator's father, former Congressman Ron Paul (R-Texas), has had a long and very close relationship with the Society, celebrating its work in his 2008 keynote speech at the John Birch Society 50th anniversary event and saying that it was leading the fight to restore freedom.[88] The keynote speaker at the group's 60th anniversary celebration was Congressman Thomas Massie (R-Kentucky.), who maintains a near-perfect score on the Society's "Freedom Index" ranking of members of Congress.[89] Right-wing conspiracy theorist Alex Jones, who hosted Trump on his Infowars radio show and claims to have a personal relationship with the president, called Trump a "John Birch Society president"[90] and previously claimed Trump was "more John Birch Society than the John Birch Society."[91]
FactCheck.org: President Donald Trump accepted his party's nomination in a speech filled with familiar falsehoods "At the close of the Republican National Convention, the president distorted the facts on the economy, COVID-19, health care, the military, immigration, policing and foreign affairs."
Trump Comes Up Empty When Pressed for Evidence of Election Fraud in Court "The Trump campaign's 524-page response to a discovery demand turned up precisely zero instances of mail-in voter fraud."
Portland suffers serious street violence as far right return 'prepared to fight'
RNC Speaker Cancelled After Boosting QAnon Conspiracy Theory About Jewish Plot to Enslave the World
Steve Bannon indicted in scheme to defraud donors to Trump's wall
Lindsey Graham attacks challenger for raising out-of-state money as he does the same thing
Air pollution is much worse than we thought "Ditching fossil fuels would pay for itself through clean air alone."
Richmond VA Violence Caused By White Supremacists Posing As BLM
Leaked Documents Show Police Knew Far-Right Extremists Were the Real Threat at Protests, Not "Antifa"
Minneapolis police say 'Umbrella Man' was a white supremacist trying to incite George Floyd rioting
Anti-fascists linked to zero murders in the US in 25 years
Demands for Kushner to Resign Over 'Staggering' Level of 'Depravity' That Put Politics Before Public Health "Holy hell. Jared Kushner reportedly abandoned a national testing plan because it was *politically advantageous* to sit back and let blue states be eviscerated by the virus."
GOP State Senator Cindy Hyde-Smith says it's a 'great idea' to make it harder 'for liberal folks to vote'
Forbes: How Donald Trump Moved Millions From His Campaign Donors To His Private Business "Millions from his campaign, millions from the RNC, millions from committees. While other billionaires spend big on the election, the Donald is raking it in."
Charter Schools May Have Double-Dipped as Much as $1 Billion in PPP Loans
AP: Catholic Church lobbied for taxpayer funds, got $1.4B
Religious Organizations Receive $7.3 Billion in PPP Loans, Megachurches Amass Millions
All the President's Lies About the Coronavirus "An unfinished compendium of Trump's overwhelming dishonesty during a national emergency."
Oversight erased, Supreme Court hijacked: Trump turns the presidency into a dictatorship
Special Report: Former Labradoodle breeder was tapped to lead U.S. pandemic task force
[Department of Health and Human Services Secretary Alex] Azar oversaw as HHS secretary, the Centers for Disease Control and Prevention and the Food and Drug Administration, wouldn't come up with viable tests for five and half weeks, even as other countries and the World Health Organization had already prepared their own.

Shortly after his televised comments, Azar tapped a trusted aide with minimal public health experience to lead the agency's day-to-day response to COVID-19. The aide, Brian Harrison, had joined the department after running a dog-breeding business for six years. Five sources say some officials in the White House derisively called him "the dog breeder."
---
I never understood wind. You know, I know windmills very much. I have studied it better than anybody else. Its very expensive. They are made in China and Germany mostly. Very few made here, almost none, but they are manufactured, tremendous if you are into this tremendous fumes. Gases are spewing into the atmosphere. You know we have a world right?

So the world is tiny compared to the universe. So tremendous, tremendous amount of fumes and everything. You talk about the carbon footprint fumes are spewing into the air. Right? Spewing. Whether its in China, Germany, its going into the air. Its our air their air everything right?

A windmill will kill many bald eagles. After a certain number they make you turn the windmill off. That is true. By the way they make you turn it off. And yet, if you killed one they put you in jail. That is OK.

You want to see a bird graveyard? You just go. Take a look. A bird graveyard. Go under a windmill someday, youll see more birds than youve ever seen in your life.
~ Donald Trump 12/21/2019
Corruption in the Interior Department "The extractive industries have a history of deliberately concealing the value of oil and gas extracted from public lands, with the apparent intent of underpaying royalties to the federal government. In addition, these industries have benefited for far too long from the federal government's continued failure to collect billions of dollars in owed revenue from natural resource leases. Numerous high-level officials at the Interior Department have conflicts of interest, from recent employment in or lobbying for the industry they now regulate, to continued contact with former clients on policy matters they should recuse themselves from working on. At the top of the list is Interior Secretary David Bernhardt, who has an "unprecedented" level of connectedness to the industry."
Bill Gates says Trump's decision to halt WHO funding is 'as dangerous as it sounds'
Trump announces defunding of World Health Organization after criticism of U.S. virus response
Mitch McConnell tried to gut a CDC program directed at detecting and responding to infectious-disease outbreaks
He Could Have Seen What Was Coming: Behind Trump's Failure on the Virus
Throughout January, as Mr. Trump repeatedly played down the seriousness of the virus and focused on other issues, an array of figures inside his government — from top White House advisers to experts deep in the cabinet departments and intelligence agencies — identified the threat, sounded alarms and made clear the need for aggressive action.

The president, though, was slow to absorb the scale of the risk and to act accordingly, focusing instead on controlling the message, protecting gains in the economy and batting away warnings from senior officials. It was a problem, he said, that had come out of nowhere and could not have been foreseen.
'We have thrown 15 years of institutional learning out the window': Leaked emails show top public-health experts raised alarm about the Trump administration's botched coronavirus response
'Dangerous idiot': Trump says 'germ is so brilliant antibiotics can't keep up with it' in chaotic White House coronavirus meeting "President describes virus as 'very smart', 'a brilliant enemy', and 'a genius', on same day more than 2,000 US citizens die from Covid-19."
Republicans force Wisconsin voters to risk their lives during a pandemic
Pence says Trump never 'belittled' coronavirus threat. Here are 19 times he did.
Coronavirus Is Forcing the GOP to (Tacitly) Admit Its Ideology Is Delusional
Trump to open more wildlife refuge land to hunting, fishing
Trump pushes false claims about mail-in vote fraud. Here are the facts.
"If you ever agreed to it [mail-in voting], you'd never have a Republican elected in this country again." — President Donald Trump
Trump removes independent watchdog for coronavirus funds, upending oversight panel
Video emerges showing Trump talking about cutting pandemic team in 2018, despite saying last week 'I didn't know about it'
Journalism Professors Call for an End to Fox News Coronavirus 'Misinformation' in Open Letter to Rupert Murdoch
Intelligence officials were warning Trump about a pandemic as early as January, but they 'couldn't get him to do anything about it'
Georgia's GOP House Speaker says vote-by-mail system would be 'devastating to Republicans'
Trump just comes out and says it: The GOP is hurt when it's easier to vote. Similarly, Trump says Republicans would 'never' be elected again if it was easier to vote
Trump has never been worse — but his approval is surging. Why?
Trump Cabinet Bible Teacher Blames Coronavirus Pandemic on God's Wrath — Somehow It Involves China, Gay People, and Environmentalists
The Coronavirus Hoax "People should ask themselves whether this coronavirus "pandemic" could be a big hoax, with the actual danger of the disease massively exaggerated by those who seek to profit – financially or politically – from the ensuing panic." — libertarian Ron Paul
Trump Won't Order Vital Coronavirus Supplies Because Corporate CEOs Asked Him Not To.  "They're worried it could be bad for business."
Intelligence Agencies Repeatedly Warned Trump of a Likely Pandemic. He Ignored Them.
'Freedom payments?' The coronavirus exposes the fraud of the anti-government movement. "The stated premise of the Tax Cuts and Jobs Act of 2017 was to goose the economy, which it didn't do (annual growth was exactly the same in the two years prior to passage as in the two years after — 2.4%). So it didn't make America stronger. What it did was weaken the federal government, by looting the treasury to feather the nests mostly of corporations and the already rich. This withering of the government has always been part of the point. But where are the adherents of this now — now that we're in trouble? They're clamoring for their own freedom payments." To bailout corporations and Wall Street.
Causing 'Profound' Trauma, Trump Administration Detained Record-Breaking 70,000 Children in 2019
Trump's Dangerously Effective Coronavirus Propaganda "The president's effort to play down the pandemic is being amplified by a coalition of partisan media, digital propagandists, and White House officials."
Why Trump Intentionally Misnames the Coronavirus "When conservative figures continually refer to the "Wuhan virus" or "Chinese coronavirus," it's clear they're doing it to make a point."
Trump officials did sound the coronavirus alarm. They just don't work there anymore. "The dire message coming from former administration officials often stood in contrast to the upbeat narrative emanating from the White House."
The Dismantled State Takes on a Pandemic "Conservatives won their war on Big Government. Their prize is a pandemic."
You can't make this stuff up: Trump administration isn't backing off proposed cuts to CDC budget "In early February, the White House unveiled a budget that called for deep CDC cuts. Yesterday [March 10, 2020], the administration refused to back down."
Survey: White Evangelicals See Trump As 'Honest' And 'Morally Upstanding'
Prosecution of white-collar and corporate crime at all-time lows under Trump
Trump Picks Mark Meadows, Who Had Talked About Sending Obama <93>Back to Kenya,<94> as New Chief of Staff
Oxfam International: The 1% grabbed 82% of all wealth created in 2017
Judge Calls Barr<92>s Handling of Mueller Report <91>Distorted<92> and <91>Misleading<92>
Danny Westneat of the Seattle Times (March 4, 2020): <93>Within a couple days, (it is) going to be down to close to zero,<94> Trump confidently declared about the bug just six days ago. —
The Trump administration barred a top US disease expert from speaking freely to the public after he warned the coronavirus might be impossible to contain
Trump vowed to not cut Social Security and Medicare <97> hours before proposing just that
Snopes fact check: The Trump administration fired the U.S. pandemic response team in 2018 to cut costs.
Newsweek: Income Growth Slowed Across the US Under Donald Trump (was faster under Obama)
Newsweek: Right-Wing Extremists Are a Bigger Threat to America Than ISIS
Fact checker Snopes says ObamaÆs Last 3 Years Saw More Jobs Created Than TrumpÆs First 3 "Left-leaning critics of U.S. President Donald Trump rejected his claims to overseeing unprecedented economic growth in early 2020. Who was right?"
Despite Trump reversal, not even the military thinks landmines are a ævital toolÆ
The Heartland Lobby: Inside the climate change denial movement.
Former top Navy SEAL who oversaw the Osama bin Laden raid says the US is 'under attack from the president'
All four Roger Stone prosecutors resign from case after DOJ backpedals on sentencing recommendation Trump tweeted early Tuesday, calling the initial sentencing recommendation "disgraceful" and a "miscarriage of justice."
Georgia Governor Kemp (R) Loses Vote Purge Suit Brought by Reporter Palast Voter suppression is seeing its day in court. "Michigan removed tens of thousands of voters with names like ôJames Brownö and ôMohammed Mohammedö ù almost all with mismatched middle names."
The 2020 Election will be a War of Disinformation "A CBS News/YouGov poll has found that just 11 percent of strong Trump supporters trust the mainstream mediaùwhile 91 percent turn to the president for ôaccurate information.ö
Bryan Lanza, who worked for the Trump campaign in 2016 and remains a White House surrogate, told me flatly that he sees no possibility of Americans establishing a common set of facts from which to conduct the big debates of this yearÆs election. Nor is that his goal. ôItÆs our job to sell our narrative louder than the media,ö Lanza said.
Yes, Donald Trump has been linked to the mob
Trump Repeats [numerous] Falsehoods in Celebrating Acquittal
Evangelist preacher Franklin Graham [Trump's preacher] planned a seven-city UK tour. All seven venues have dropped him, due to Graham's homophobic and Islamophobic comments.
Rush Limbaugh is a bigot. Rush Limbaugh: Barack the magic Negro https://www.facebook.com/OccupyDemocrats/videos/199540661447392/
Trump's assassination of Soleimani led to Iran's reprisal which caused 64 U.S. soldiers to sustain traumatic brain injuries, as well as causing Iran to (mistakenly) shoot down a passenger airline.
National Debt Increased by $3 Trillion During Donald Trump's Three Years as President
Did Donald Trump Say Karen McDougal and Stormy Daniels Reminded Him of Daughter Ivanka? "Both women have alleged in interviews that the president compared them to Ivanka Trump."
Donald and Ivanka Trump Were Involved in InaugurationÆs Inflated Payments to Family Business, New Suit Says ôMembers of the Trump family were aware of and involved in the negotiation of this unconscionable contract,ö the District of ColumbiaÆs attorney general wrote in the suit.
Bloomberg: Trump Tax Cut Hands $32 Billion Windfall to AmericaÆs Top Banks "Top banks saved $18 billion in 2019, even more than prior year. Meanwhile lending slowed, job cuts mounted and dividends rose."
Trump Lies about "Imminent Threat" from Suleimani
Trump and Pence Demand Trust, Then Lie, Blaming Soleimani For Benghazi and 9/11
How 'Lock Her Up!' just blew up Another useless GOP investigation turns up a big fat nothing burger. This makes three now, that have amounted to nothing. Meanwhile, Mueller's investigation into Russian interference in the 2016 election led to 199 criminal counts against 37 people and entities. Seven people pleaded guilty; six were sentenced to prison.
Justice Dept. winds down Clinton-related inquiry once championed by Trump. It found nothing of consequence.
NPR: Deceased GOP Strategist's Daughter Makes Files Public That Republicans Wanted Sealed
Did Harry Truman Denounce the Use of æSocialismÆ as a æScare WordÆ? Yes, he did!
Donald Trump stopping US government scientists from speaking out publicly is 'chilling'
President Donald Trump, on windmills:
I never understood wind. I know windmills very much, I have studied it better than anybody. I know it is very expensive. They are made in China and Germany mostly, very few made here, almost none, but they are manufactured, tremendous – if you are into this – tremendous fumes and gases are spewing into the atmosphere. You know we have a world, right? So the world is tiny compared to the universe. So tremendous, tremendous amount of fumes and everything. You talk about the carbon footprint, fumes are spewing into the air, right spewing, whether it is China or Germany, is going into the air.
Trump Adviser Caught On Tape: Voter Suppression Key To GOP Battleground Efforts
USA Today: Deaths in custody. Sexual violence. Hunger strikes. What we uncovered inside ICE facilities across the US
NPR: After 2 Years, Trump Tax Cuts Have Failed To Deliver On GOP's Promises
Trump Campaign Bizarrely Edits His Head Onto Greta Thunberg's Body on Her TIME Cover (to trigger the libs)
Forbes: New Report: Charter Fraud And Waste Worse Than We Thought
Ex-Breitbart editor says Stephen Miller is a white supremacist, and she was too
President Pays Gigantic Fine for Stealing From Charity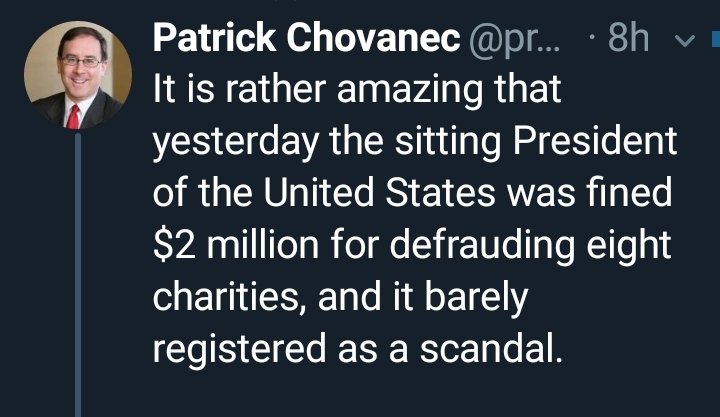 Fact check: Trump makes at least 21 false claims at NATO meetings
Discovered Documents Reveal Trump Tax and Bank Fraud
As a Businessman, Trump Was the Biggest Loser of All
Between 1985 and 1994, the Times story says, TrumpÆs core businesses lost money every single year, and the accumulated losses came to more than a billion dollars. ôIn fact, year after year, Mr. Trump appears to have lost more money than nearly any other individual American taxpayer, the Times found when it compared his results with detailed information the I.R.S. compiles on an annual sampling of high-income earners,ö Buettner and Craig write. ôHis core business losses in 1990 and 1991ùmore than $250 million each yearùwere more than double those of the nearest taxpayers in the I.R.S. information for those years.ö
There Are Two Separate Impeachment Hearings Happening Right Now ù And Republicans Are Winning Theirs "Nothing Republican Rep. Devin Nunes does during the hearings makes sense if you watch it in the moment. When itÆs posted on Facebook later, though, it works perfectly."
Why Fox News Slimed a Purple Heart Recipient A former Fox News guest host explains the methodology behind Fox News propaganda.
Trump sought to allay fears about his health during his presidential campaign, releasing a letter from his long-time personal doctorùDr. Harold Bornsteinùwhich lauded Trump's "astonishingly excellent" condition and claimed he would "unequivocally" be the healthiest president in history. Bornstein has since told NBC News that the president wrote the letter himself. In 2017, Bornstein also claimed that Trump aides turned up unannounced at his office and removed files relating to the president. (source)
The Demolition of U.S. Diplomacy
Former Nixon counsel John Dean: Trump 'should have been impeached the day he walked in'
Senate Confirms Controversial Judicial Nominee, Flipping Court That Will Decide Trump Subpoena Cases
Trump associate Roger Stone found guilty on all counts and Roger Stone Becomes 6th Trump Associate Convicted Under Mueller Probe
White House Senior Advisor Stephen MillerÆs Affinity for White Nationalism Revealed in Leaked Emails
US votes against UN resolution condemning gay sex death penalty, joining Iraq and Saudi Arabia
Judge Says Trump Must Pay $2 Million Over Misuse Of Foundation Funds
11,000 scientists warn of 'untold suffering' caused by climate change
TrumpÆs Public Lands Chief Wrote For A Cult ExtremistÆs Magazine "William Perry Pendley authored anti-environmental screeds for Lyndon LaRouche. Now he controls 10% of the U.S. landmass."
'Sitting in class hungry': Schools wary of Trump plan to end free school lunches for some
Four dozen more assault allegations against Trump
Federal deficit increases 26% to $984 billion for fiscal 2019, highest in 7 years
Trump promised to bring offshore profits back home. Now he's doing the opposite
How Donald Trump Shifted Kids-Cancer Charity Money Into His Business
Trump Jr.: Women who can't handle harassment 'don't belong in the work force'
Tennessee lawmaker calls for removal of higher education to cut off æliberal breeding groundÆ
Why Are Conservatives More Susceptible to Believing Lies?
As Deficit Explodes, GOP Demands Emergency Tax Cut for the Rich
Yahoo Finance: Trump adds $4.1 trillion to national debt. Here's where the money went "The biggest contributor to the $4.1 trillion that will be added to the national debt through 2029 is the Tax Cuts and Jobs Act. This signature tax cut legislation signed by Trump in 2017 single-handedly increased the debt by $1.8 trillion, according to CRFB."
How the GOP's Tax Cuts and Jobs Act benefits mostly the rich "This page includes estimates of TCJAÆs effects in 2020. Most of the lawÆs benefits will go to the richest fifth of Americans, and a significant portion will go to foreign investors who own stocks in American companies and, therefore, benefit from the corporate tax cuts."
Probe of missing Georgia votes finds "extreme" irregularities in black districts
Journalist stopped by US border agent 'for being part of fake news media'
Scientific American: Scientists have been underestimating the pace of climate change
Newsweek: Trump, Republicans ridiculed as federal deficit, $3.7 trillion spending hit record highs. Likewise, Under Trump, the deficit has ballooned, exploding a GOP myth.
Trump's DOJ hid shocking report on growing terror threat from white supremacists
Time: æWe Are Being Eaten From Within.Æ Why America Is Losing the Battle Against White Nationalist Terrorism "In more than a dozen interviews with TIME, current and former federal law-enforcement and national-security officials described a sense of bewilderment and frustration as they watched warnings go ignored and the white-supremacist terror threat grow. Over the past decade, multiple attempts to refocus federal resources on the issue have been thwarted. Entire offices meant to coordinate an interagency response to right-wing extremism were funded, staffed and then defunded in the face of legal, constitutional and political concerns."
USDA Scientist Quits, Claims Trump Administration Tried To Bury His Climate Study
Yahoo finance: Trump adds $4.1 trillion to national debt. Here's where the money went
More toddlers appear alone in court for deportation under family separation
US revokes visa of International Criminal Court chief prosecutor
The Trump Tax Cuts Worked (As a Scam) By Eric Levitz "In May, the Congressional Research Service (CRS) found no sign that the Trump tax cuts made any discernible contribution to growth, wages, or business investment. Corporations did not plow their windfalls into exceptionally productive and innovative ventures. Instead, they mostly threw their handouts onto the giant pile of cash they were already sitting on, and/or returned it to their (predominantly rich) shareholders."
Frank Luntz, the GOPÆs message master, calls for climate action
Newsweek: FBI Director Christopher Wray Says A Majority of Domestic Terrorism Cases are Motivated by White Supremacist Violence
The Trump Administration Is Moving to End Food Stamps for 3 Million People
Forbes: The 2017 Tax Cuts Didn't Work, The Data Prove It: "Investment did not boom and workers will not see the promised bump in pay. The richest Americans instead got even richer while corporations used a lot of the new money to keep shareholders happy."
A rise in premature births among Latina women may be linked to Trump's election, study says
NBC News: Former ICE chief says raids announced for political gain, endangering migrants, agents
USAToday: Hundreds allege Donald Trump doesnÆt pay his bills
CNN: Trump invites right-wing extremists to White House 'social media summit'
Meet the Economist Behind the One PercentÆs Stealth Takeover of America
DeVos Repeals Obama-Era Rule Cracking Down on For-Profit Colleges "Education Secretary Betsy DeVos on Friday officially repealed an Obama-era regulation that sought to crack down on for-profit colleges and universities that produced graduates with no meaningful job prospects and mountains of student debt they could not hope to repay."
Do Americans Support Military Action Against Iran? Republicans do.
If the U.S. government's claims that Iran was behind the tanker attack are true, 47 percent of U.S. adults would somewhat or strongly support military action while 31 percent would be somewhat or strongly opposed. Unsurprisingly, the polling uncovered a deep partisan divide with 77 percent of Republicans backing a military strike compared to just 31 percent of Democrats.
See also One-Third of U.S. Supports Nuclear War on North Korea, Knowing It Would Kill One Million, Report Shows:
While most respondents overall opposed military action against North Korea, the "majority of Trump supporters prefer the US strike in every scenario, except when confidence in the effectiveness of the US conventional strike is 50 percent"ùand even then it remained at 44 percent as opposed to a mere 8 percent for non-supporters. Separately, those who backed the death penalty were actually more eager to inflict a higher death toll among North Korean civilians.
æThere Is a StenchÆ: No Soap and Overcrowding in Detention Centers for Migrant Children, An Expert on Concentration Camps Says That's Exactly What the U.S. Is Running at the Border
Trump's order to slash number of science advisory boards blasted by critics as 'nonsensical' "It's no longer death by a thousand cuts. It's taking a knife to the jugular,ö one science advocate said of the order to eliminate a third of the advisory boards.
Michael E. Mann took climate change deniers to court. They apologized.
Redistricting Guru's Hard Drives Could Mean Legal, Political Woes For GOP
Newly Discovered Files Suggest GOP Lawmakers Lied in Court About Racial Gerrymandering to Stop An Election
For third year in a row, TrumpÆs budget plan eliminates arts, public TV and library funding
Donald Trump nominates man whose firm tripled price of insulin to regulate drug companies
Rick ScottÆs Company Committed Historic Medicare Fraud. He Will Now Lead TrumpÆs Health-Care Push.
Trump White House quietly cancels NASA research verifying greenhouse gas cuts
Trump economists quit en masse after reports showing farmers hurt by tariffs
Trump plans to nominate Andrew Wheeler, former coal lobbyist, as EPA chief
"In 2016, when he was running for President, USA Today found that [Trump] had been involved in thirty-five hundred lawsuits, and was the plaintiff in nearly two thousand of them." (The New Yorker, May 13, 2019)
Almost every country in the world agrees deal to cut plastic pollution û except US
Meet the Money Behind The Climate Denial Movement "Nearly a billion dollars a year is flowing into the organized climate change counter-movement."